Stick Frame and Some Limitations

Perhaps stick built construction's biggest advantage is builders and tradespeople are very comfortable working in and around stick framing. All registered architects and most building inspectors are very familiar with stick framing. The International Residential Code (IRC) provides a prescriptive 'cook book' to follow for adequate structural assembly, within certain limitations. These limitations include, but are not limited to, no story height of greater than 11 feet 7 inches (R301.3), no hurricane prone areas with a design wind speed of 130 mph or greater located south of Virginia, or 140 mph elsewhere (R301.2(5)B), and no ground snow loads over 70 psf (R301.2.3).
IRC802.10.2.1 further limits truss spans to a maximum of 36 feet and building lengths to 60 feet (measured perpendicular to truss span). Trussed roof slopes must be at least 3:12 and no greater than 12:12.
Wood is a very forgiving building material and, even when miscut, replacement material is usually only a short drive away. America's home building industry has built traditional, wood stick framed homes, on site for decades.
Many builders, architects, carpenters and other subcontractors prefer to work on stick built homes as compared to alternative building systems.  Because traditionally framed houses are so popular, dimensional lumber and stick built framers are readily available.
Another advantage of stick built homes is they allow for a great level of design freedom.  You can design your barndominium with various ceiling heights, angles and curves, niches and other details. Stick framing one to achieve those unique details at a fairly affordable cost.
Despite its popularity, stick framing does have some drawbacks. Because stick built homes are assembled outside, over several weeks, framing lumber is subject to outside moisture.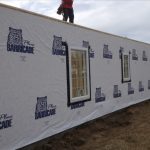 If lumber gets too wet, it can shrink and warp as it dries and cause cracks in the attached drywall.  This shrinking and warping can also make it difficult to properly insulate. To decrease  risks of potential moisture problems, ensure exteriors are covered with an appropriate and well-sealed Weather Resistant Barrier and lumber is properly dried before drywall and insulation are installed.

Another drawback of a stick built home is it usually takes several weeks to complete framing.  Total amount of time it will take will obviously depend on size and complexity of house plans and size, experience and availability of any particular framing crew.

A framing crew must precisely cut, assemble and erect barndominium framing components sometimes in adverse weather conditions.  Working around adverse weather conditions is another challenge with stick framing.

Although site-built, stick framed homes clearly dominate America's housing market, there are several other ways to build a barndominium's structure. These include post frame, PEMB (pre-engineered metal buildings), weld up steel and concrete.