Is This Floor Plan Doable as a Post Frame Barndominium Kit?


This question was posed by Reader TIFFANY in HOPKINSVILLE. My answer is yes. Whether an existing floor plan or a custom design – virtually anything you can imagine, can be converted to a post frame barndominium kit, provided it is possible to do structurally at all!

When it comes down to it, your only limitations are – your imagination, budget and available space.

Here is an online description of this build:

"This design is of another stunning ranch-farmhouse which brings back a beautiful era. Country-style living is now becoming a trend all over America and there are many reasons why. Sometimes, a peaceful living space is all it takes for one to get a complete lifestyle makeover. The busy city can take a huge toll on one's health, be it mentally or physically. It's very hard to relax when you hear the loud honking of cars outside, parties in the next room and a ton of workload. Wouldn't it be nice to move into a peaceful house where none of those things exist? This beautiful traditional ranch-farmhouse could be your dreamhouse.
A wrap-around porch and a steep roofline is among the many beautiful elements that this house has to offer. Having a traditional ranch-farmhouse for home doesn't mean you're going to totally eliminate any sense of modernity. The facade of this house can be tweaked and redecorated to perfectly suit the family. A family of around 5 members can freely occupy the three spacious bedrooms in this layout. Palladian head windows and doors are installed on the walls to provide the house natural sunlight.
A large attic could be utilized as a storage room or a man-cave for hobbyist dads. It can also be turned into another bedroom for new members of the household. The space on the upper level is vast and ideal for any purpose."
Stats: 1,793 sq. ft., 3 bedrooms, 2 baths, 2 car garage."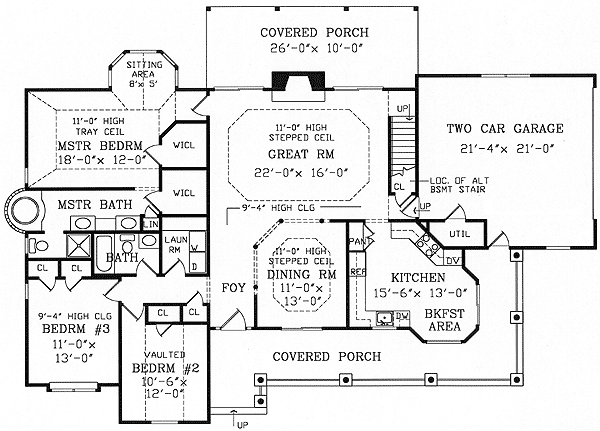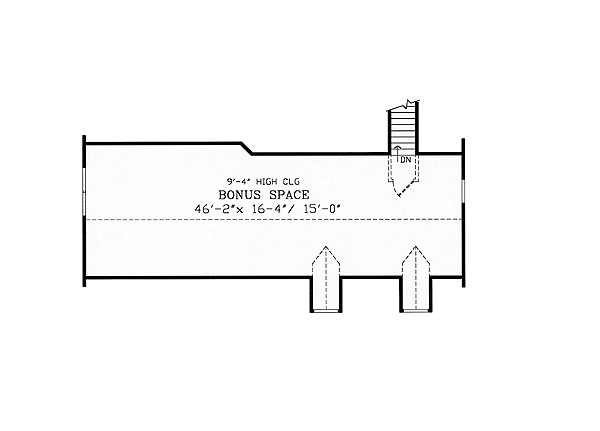 I am a great believer in homes being custom crafted to best meet the wants, needs and budget of those who will live in it, as well as being tailored to best fit upon one's property. With this said, I fear no canned plan is going to meet this.

In my humble opinion there are some less than ideal features in this plan. These would include:

Lack of accessible features – all doors should be three feet wide, hallways four feet. A step down to a dining room means those 10% of Americans who will be confined to a wheelchair at some point in their life will not be able to eat with everyone else. It is also a trip hazard, especially for guests. Sunken living or dining rooms were possible in he 90''s but have mostly gone out of vogue. There is no accessible bathroom or roll in shower.

Upstairs bonus room – bonus rooms are not free space by any means. Nor are they accessible. Try to get anything of size around a corner and up those stairs would prove impossible.  Dormers might be cute, however they do come with a premium price and are not adding to usable floor space.

My kitchen is my domain and I would feel shut in with this design. I would do away with the kitchen eating area and open up it and the dining room to create a big open space along with the current great room. Pantry barely big enough to be a small closet – give me a space I can get a second refrigerator and an upright freezer in. Those additional storage areas are priceless.
A design for secondary bedrooms including walk-in closets would be preferable.

Laundry location is going to make for a lot of steps to the master suite. Sitting area looks cute in plans, but how many of us are seriously going to utilize this space? Rarely do those garden tubs ever get used, ditch it for a tiled open shower with a rain head (and roll-in wheelchair accessibility). Soaking tubs or jetted tubs are also very popular.

What about this two car garage would work for anything but two cars? Most of us have stuff (bikes, work benches, golf clubs, ski gear and many more) and "stuff" needs a place.