Do You Own the Land Your Barndominium Will Be Built On?
Barndominiums, shouses and post frame homes are not only a current rage, they may be America's future home of choice. Pinterest has literally hundreds of photos of barndominiums. DIY network's "Texas Flip-n-Move" feature a rusty old barn made into a beautiful home in Episode 6 of Season 5. Chip and Joanna Gaines took on a barndominium makeover in Season 3 Episode 6 of "Fixer Upper". Tens of thousands of Facebookers join barndominium discussion groups of one sort or another.
However not everyone wants to take on the joys and challenges of trying to convert an old barn into a beautiful and functional new home.
Most potential barndominium owners are trying to escape urban or suburban living. They want to sneeze without hearing their neighbors say, "Bless you". Oftentimes they have looked to buy an existing home, but could never find one exactly fitting their needs.
Here is where a blank canvas of vacant property has its allure. Within constraints of available space, budget and imagination anything becomes possible.
I accept my asking, "Do you own the land your barndominium will be built on?" in Facebook groups puts me in a position of being a brunt taker for jokes. There is, however, a method to my madness.
To begin with, I do not care if you own property free and clear (and let's face it, your local property taxing authority owns it as well). It doesn't matter if 'your dirt' is owned by a relative, a friend or a close enemy – just as long as you know where your new home is going to be.
For most this 'barndominium build" is going to become their forever home (or at least theirs for a very long time).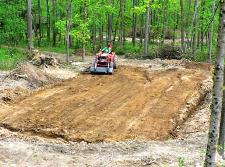 Seemingly millions of canned house plans are available (for a small to large fee) across a plethora of internet websites. 99.9% of these plans have a similar problem – they were designed for a flat lot in suburbia! Yep, they look stunning on a website. Considering spending your hard earned money on one thinking you will save money by using cheap house plans? This would be an equivalent to everyone buying 34 inch waist 36 inch inseam Levi's. They fit me just fine, but what if you are not 6'5"? Or maybe you do not even like Levi's?
Your home should be planned to fit into its environment. Does it make sense to try to change (or ignore) your environment to fit your bargain house plans?
In order to craft ideal plans for your new barndominium, shouse or post frame home, your building site should be carefully considered.
If you are considering hiring a general contractor to turnkey your build, or merely an erector to put up your home's shell, only once you 'own the dirt' and even better have a building plan developed to match your building site should you embark on a 'builder hunt'. Builders are in short supply and their time is valuable. It is an unfair expectation to take advantage of them before they can reasonably ascertain you actually might have a need for their services.
Know where your barndominium is going to be built? Please reach out to me and I can give you some free advice on getting those ideal plans.
For extended reading on turnkey general contractors for barndominiums please see: https://www.hansenpolebuildings.com/2020/02/does-my-barndominium-need-a-turn-key-general-contractor/