Another Post Frame Builder Blunder
In our last exciting installment of "As The Builder Burns" I shared a photo of a prefabricated end truss deeply in need of a sky hook in order to remain suspended in space.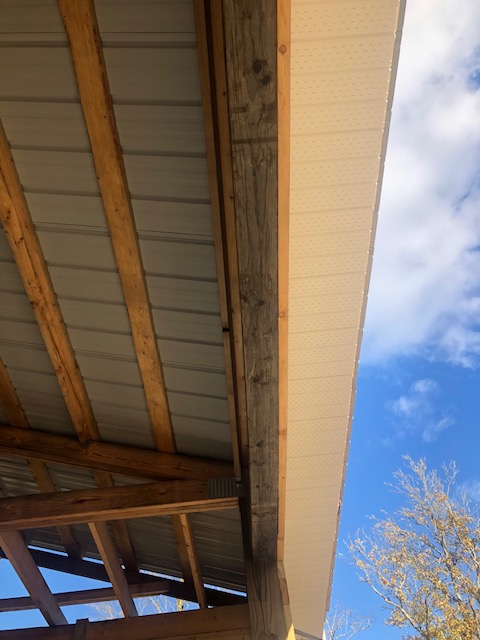 Today, it gets even better, with this very same builder showing off his ability to pretty well completely ignore engineered building plans, not to mention not considering opening our Construction Manual.
A typical Hansen Pole Building has widely spaced columns – most often every 10 or 12 feet, with ganged trusses (in this case three ply due to 60 foot width clearspan and a large snow load). Between those ganged trusses, on edge and attached with joist hangers, would be purlins.
I admit, I had to look long and hard at this photo to believe it. I would look away, ponder it, then look back again. 
It wouldn't go away. This is bad, very, very bad indeed.
My first thought was how did they ever get roofing on without those flatwise purlins buckling under an installer's weight? You could not have paid me enough to have risked my life on this roof!
Now I do have to admit having 5-1/2 inches of width to drive a screw in makes for a very large and inviting target. Chances are good no purlins were missed with screws.
On every other purlin, they did make an attempt to stiffen things up by forming a "T", with one purlin vertical and one flat on top of it. Even if combined Section Moduli of these two members would make them adequate to carry a load from four feet of roof (because unreinforced purlins laid flat epically fail, so "T"s have to carry all roof loads), vertical "web" of these "T" purlins would need to be supported at each end by joist hangers. As placed, under a load, deflection will cause nails joining these two members to withdraw from the vertical member causing yet another failure point.
Of course all of this has left me wondering….what did this builder think all of those boxes of joist hangers were for?