Today Mike addresses questions about steel ceilings, options for wall finishes, and condensation in added space.
DEAR POLE BARN GURU: I have a 40ft wide x 60ft long x 12ft high pole barn. The trusses are 4ft on center. I want to put a steel ceiling up and wanted to know the best size piece to use when putting it up. 8, 10, or 12. MICHAEL in TABERNACLE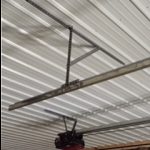 DEAR MICHAEL: Before consider this move confirm your trusses are designed to support added ceiling weight across bottom chords. Also, make certain to adequately ventilate dead attic space you will be creating (read about adequate ventilation here: https://www.hansenpolebuildings.com/2018/03/adequate-eave-ridge-ventilation/).
Having satisfied above, if you intend to merely attach steel panels to truss undersides and run panels lengthwise, I'd go with 28' and 32' long pieces to minimize splices. If framing has been placed between trusses to support steel running across building, go with full length panels and have no splices.
DEAR POLE BARN GURU: Hello.
We have a new pole building and are looking at options for finishing the interior walls. The building has been well insulated and will have a heater and AC unit. Besides drywall, what other options are available? LISA in MIDDLETOWN
DEAR LISA: Gypsum wallboard (sheetrock) will certain be most common as well as most popular option. If you go with 5/8″ thick Type X, it will also be fire rated. You can use any material for covering walls one would find in any type of building – however most of them are still installed over sheetrock. If for a shop building, 7/16″ OSB proves to be quite popular. Some people like steel liner panels, however I find them difficult to attach things like shelves and cabinets to and they get dented.
DEAR POLE BARN GURU: Greetings.  I have a 20-year old 40×25 post and beam barn, 2 story, shiplap siding, with metal roof and concrete floor.  Last summer I walled off a 11.5×25 area for a workshop (10ft ceiling) and noticed a lot of condensation this past spring (after pouring the concrete floor last fall). The workshop is used sporadically from spring through fall. I would appreciate your advice on how to address condensation issue and any recommendations for insulation.  Thanks for your time. RALPH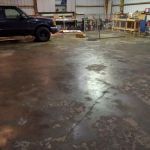 DEAR RALPH: Your increase in condensation most likely comes from moisture leaving concrete as floor cures. If you placed a good vapor barrier properly under slab, it should eliminate this as a source of moisture for condensation. If you did not, then you will want to seal slab with a high quality sealant. If condensation issues continue, it may be necessary to add a powered exhaust vent. Click here for further reading about insulation for different post frame uses: http://www.hansenpolebuildings.com/2018/06/pole-barn-insulation-part-ii/