Rehashing Eave Height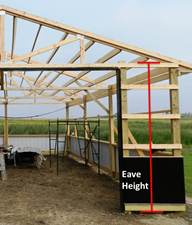 Eave height on post frame buildings seems to be a challenge for some folks. At Hansen Pole Buildings, we do make some efforts to see to it our clients (or more often the builders some of them hire), actually build to the correct height.
How important is it to get this correct? After having a solid foundation, this would probably be number two on the list.
My long term readers are going to begin having drool run out the corners of their mouths quickly, as I have harped (oops – expounded) upon the subject frequently in the past.
Today's lesson is due to one of our clients who is currently erecting his pole barn. This particular building has overhangs on the gabled endwalls, fashioned by lowering the end truss by the thickness of the roof purlins. This allows for the purlins to run over the top of the purlins to support the overhang. It makes for one sturdy overhang which isn't going to sag.
The question?
"Where it says lower end truss by 7 inches and 5/8 of an inch? Can you please confirm this? Doesn't this mean the eave will be lower than 12 feet?"
Mike the Pole Barn Guru Responds:
Our client was spot on with how far to lower the trusses on the end of his building.
Today's answer on eave height lies with some extended light reading, enjoy: https://www.hansenpolebuildings.com/2015/02/eave-height-2/