Placement of Sturdi-Wall Plus Brackets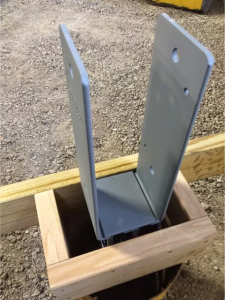 I am enjoying our client Dan who is in the process of getting started with his new Hansen Pole Buildings' kit package. My educated guess is he is going to construct one truly beautiful building.
Dan has a great question, which I will share:
"So I went ahead and purchased the Sturdi-Wall Plus brackets (in concrete is the rebar) from Perma Column. Really nicely made.
 So my plan now is to dig, setup similar to what is in attached picture and get everything nice and level before hand. 
So what I'd like to do is set my piers all at equal elevation and leveled. Then, wooden boxes so they are square to allow ground girts to sit nicely. 
 Here is my dilemma. What height to set the piers to? If I set them 3.5" lower than my anticipated concrete floor, that means that I wouldn't be able to tie my poles to my floor with rebar as shown in sealed plans PDF. Would it therefore make sense to lower the piers even more so that the bottom of the Sturdi-wall is level to the bottom of the 2×8? That would mean I am burying the bracket in 3.5" of concrete (I'd imagine if removed Sturdi-wall I'd have a square) but I would be able to tie the rebar to the post. 
 Does that all make sense? "
Well, Dan's question does make sense and I believe I can make his life fairly easy.
Set the Sturdi-Wall Plus brackets so the bottom of the bracket and top of pier are even with the level of your concrete floor. Take two five foot long pieces of rebar, bent at a 90 degree angle with one leg into the encasement around the brackets, the other leg out into the future slab. This will accomplish effectively tying the columns into the slab and will keep the "business" end of the bracket above the concrete. It does take a little more rebar than running through the columns, however the net extra investment is minimal.
Not interested in placing your new post frame building's columns into the ground? Your building can be designed for the columns to be bracket mounted!