DEAR POLE BARN GURU: As a licensed Real Estate agent and looking to move, I realize how crazy the market is (at least in Michigan and the Grand Rapids Area).
Considering building a pole barn home for my wife and I when we sell our house, however what about resale value?
My concern is regarding appraisal or the possibility of having comparables should we need to sell after we build. At best I could think of manufactured, but that would depend on what the building is "labeled" as. Speaking to a professional lender he seemed convinced that I would HAVE to have a cash buyer, or someone doing a portfolio loan at 15% down.
Do you know of anyone who was able to sell their pole barn house with financing, and if so, what did the appraiser use as their comps?
Thank you in advance! GAGE in ROCKFORD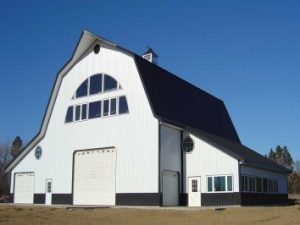 DEAR GAGE: Post frame homes will have the same value as a comparably sized and featured stick built home. Think of it from this aspect – both have permanent foundations, both are constructed onsite out of wood framing. The structural system is "wood framed". Period.
When you (or a buyer) go to get a loan, remember to use "wood framed" otherwise you will entirely confuse the lender. For comps, your appraiser will be looking at other similar sized and featured wood framed homes which have sold recently in your area.
I cannot vouch for people selling their homes with financing, however I financed and refinanced my own home and with two very elaborate post frame accessory buildings (both of which are livable spaces). Through three appraisals, never once did the question of post frame come up.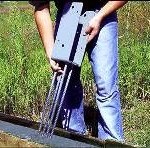 DEAR POLE BARN GURU: Wondering if you can place the 6×6 pole onto a concrete foundation with brackets that hold pole to concrete?
DEAR JOE: Yes, it can be done, provided the 6×6 is adequate to carry the loads being imposed upon it. Here is information on the brackets: https://www.hansenpolebuildings.com/2012/09/concrete-brackets-2/.

DEAR POLE BARN GURU: I have a pole barn that I would like to finish the interior on
the posts are spaced 8′, the building has 7/16 osb over the wall girts (vinyl siding), I did a cut
and cobble job of rigid foam (1 inch) . My idea is to use 7/16 osb to finish inside and Maybe add sheetrock at some point- my concern is the support of interior walls-do I just let the wall girts carry the load or do I figure a way to anchor into posts? Thanks very much, Robert in Middletown.
DEAR ROBERT: Not sure why you would want to go to the added expense of placing OSB on the inside and then later adding gypsum wallboard, other than your post frame building frame may have too much deflection to prohibit taped drywall joints from cracking.
Before adding GWB (gypsum wall board) you should verify with the engineer who designed your building to make sure it is adequately rigid to be able to support it. If you are unable to contact the engineer, then you should consult with a RDP (Registered Design Professional – architect or engineer) who can confirm it is adequate, or recommend a fix or fixes if it is not.
Once you know all is good, a set of girts should be attached to the inside of the columns to support the GWB. This will also create an insulation cavity where you can add fiberglass batts or even better – do BIBs (information on BIBs here: https://www.hansenpolebuildings.com/2011/11/bibs/).