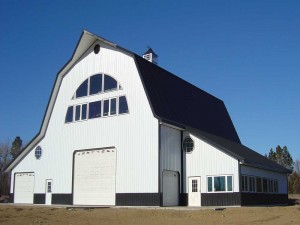 Building a two-story or multi-story pole barn is an ambitious project, and if you're considering such an undertaking, be sure you know both the advantages of stacking space and the issues that come with it.
Think about some of these common pros and cons related to the construction of two-story pole buildings, and remember: the higher you go, the harder it will be to finish the project.

Pros of Building Two Stories
Multi-story pole buildings are not without their benefits, especially for those who prefer the outside over the inside.
Lots of Building, Lots of Land
You still get double the square footage of your first story, but you get to preserve the land that would ordinarily fall to the extra space needed for the second story on the first level. With the extra space, you can build new sheds, create lush gardening spaces, or just stretch your legs on your expansive plot of land.
Superior Fire Safety
Your building will be doubly protected by fire because it has to align with building code. You'll need a one-hour fire separation between stories to keep your building legal, which may be bothersome, but will keep you, your family, and whatever items you have stored safer.
More Aesthetic Options
The extra height on your building opens your pole barn up to a world of new looks.
Gambrel roofs have room to stretch and sway with a second story.
Monitor roofs take on a new purpose in multi-story buildings.
Fit custom building designs into multi-story plans for ultimate personalization.
You can even restructure lean-tos with added support to double as porches and so much more. Adding a second story is your chance to get creative – just make sure you factor your creative ideas into plans before construction begins.
Cons of Multi-Level Pole Barns
Pole buildings with two or more stories have their shortcomings, too, especially when you start factoring in logistics.
More Expensive than a Single Level
It's most likely considerably cheaper to build a pole barn with the same total square footage on a single level than it is to build a multi-story building. Without the need for additional structural support, fire safety considerations, and efforts to match additional buildings codes, you can stretch your budget even further on a single story than you can on two.
Accessibility Issues
You'll of course need to build stairs, which can end up inside or outside, but if you yourself are or live with those who are disabled (or if you have or plan on having children), you'll also have to construct handicap access to and from your second story. It can prove to be a challenge both spatially and financially to provide universal accessibility.
Height Restrictions
This may burst your bubble: you may not even be able to begin your pole barn project if your local planning department can't give you the OK to break ground. Building codes differ from area to area, so make sure to visit your planning department before you consult with the pole building experts.
Two Stories or One?
It's best not to make compromises when laying down plans for a pole building, even when considering whether to build one or two stories. The largest expense is simply deciding to build a barn of any size, so when the decision comes down to square footage, be sure to maximize every time. It's easier to find a use for unused space than it is to add on to a pole barn.
The largest considerations will be, as usual, time and money. You'll have to spend more time and effort ensuring your plans and building are up to code, safe, and accessible, and you'll have to make room in your budget to account for those efforts. If you're ready and willing to spend some extra resources, opt for the second story.