Reader GEORGE in LOUISVILLE writes:

"I am looking to install tin on the ceiling of my 54 X 75 pole shed. I was wondering if 6 mil plastic sheeting with all seams taped would work for a vapor barrier? My concern is not to have it rain in my building after the tin is up and the heat is on."

Mike the Pole Barn Guru:
Well George, this answer is not going to be nearly as simple as your question.

Prevention of internal rain (condensation) is going to be a function of several aspects.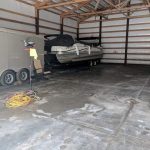 #1 Controlling source – if there is not a well-sealed vapor barrier under your concrete slab on grade, you should be planning on two coats of a good sealant for it. If you do not know if there is a vapor barrier under it or not, leave a wrench on it overnight. Next day, pick the wrench up and if there is a dark place on the floor surface where the wrench was, you have no under slab vapor barrier.

#2 Source of heat – some heat sources add significant amounts of water vapor into your internal air (propane being a prime offender). Know what you are getting into before it becomes a challenge you do not want.

#3 How are you currently controlling condensation? If your building has a thermal break between purlins and steel roof – excellent. If not, your best solution is going to be two inches of closed cell spray foam applied to the underside of roof steel. This is not an inexpensive solution, but it is more practical than removing roofing, adding a thermal break, and reapplying roofing (plus roofing never goes back on as well as it was originally installed). Plan on $4000 to $4500 for closed cell spray foam.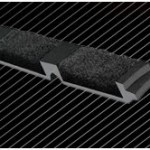 #4 Ventilation – you are going to create a dead attic space above an insulated ceiling. If it is not adequately vented you are going to have problems. Best combination is vented eaves and ridge. Your building will require at least 1944 square inches of net free ventilation area (NFVA), distributed equally between eave and ridge. If this is not possible (building has no sidewall overhangs), then your choice is limited to gable vents and it will take many of them to provide adequate NFVA.

#5 You are in Climate Zone 5. This means a Class I or II vapor retarder is required for the interior side of framed walls. This could be 6 mil polyethylene (Visqueen) or Kraft-faced fiberglass batt insulation. For your ceiling a plastic vapor barrier should only be installed in vented attics in climates with more than 8,000 heating degree days. In Nebraska, heating degree days for a normal year is 6322.