DEAR POLE BARN GURU: How difficult is it to add interior walls to build rooms inside the pole barn. Are more materials needed to add interior rooms and do the exterior walls need extra support? PATRICIA in McMINNVILLE
DEAR PATRICIA: The beauty of post frame (pole barn) buildings is the great majority of them are designed to be clearspan – there are rarely interior columns to avoid, so non-structural interior walls can be placed anywhere!
This was a great feature for my lovely bride and I, as we moved walls all around until we came up with the configuration which best met with our needs – after the building shell was completed.
There is a caveat – if the interior of your building is going to have gypsum drywall (aka sheetrock) it is important to have the structure designed to limit the deflection. Most post frame buildings are designed with only the deflection of steel siding in mind, which would cause many drywall joints to crack under wind or seismic events.
If properly designed (better make sure an engineer was involved in those original plans) then no materials should have to be added to the exterior framework in order to add interior walls. You will, of course, have to provide the materials for the interior walls themselves.
DEAR POLE BARN GURU: Can Hansen provide a kit that will work as a picnic shelter with no walls, just the poles and the roof with the triangle gable ends covered with siding? JOE in MISENHEIMER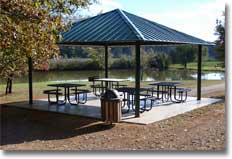 DEAR JOE: Yes we can provide roof only buildings. In most cases, it is less expensive to cover one or both endwalls to the ground, rather than building just a pavilion style structure. Here is a link to a previous article where I expound upon why: https://www.hansenpolebuildings.com/2015/04/roof-only-pole-buildings/
DEAR POLE BARN GURU: I am doing a barn w apartment , the whole building will be conditioned space, I am looking for the best house wrap for my barn and new home?
I am wondering if insulated Tylek or insulated panels are worth it on outside since I'm framing w 2×6 and concrete lap siding? Thanks DANIEL in WOODBINE
DEAR DANIEL: Most Building Permit issuing jurisdictions are going to require a Weather Resistant Barrier underneath siding around a conditioned space, so there is probably not much of a choice. For the most part, concrete lap siding should be installed over a solid sheathing such as OSB (oriented strand board) or plywood to prevent waves in the material and to give the building adequate shear resistance. Here is the link to the first of a three part series of articles I wrote on Weather Resistant Barriers: https://www.hansenpolebuildings.com/2016/01/determining-the-most-effective-building-weather-resistant-barrier-part-1/.