Hansen Pole Buildings Designer Rachel asked me about this today:
"I have more and more builders say they put Tyvek® on the walls and roof and then spray foam.  This is so they can replace the siding/roofing in the future.  Do you find any downfalls with this?  I thought this was a pretty good idea."
Having just written an article about spray foam insulation (https://www.hansenpolebuildings.com/2016/07/advantages-spray-foam-over-batt-insulation/), this is a well timed question.
Tyvek and all house wraps are NOT (I repeat NOT) vapor barriers. They are weather barriers: https://www.hansenpolebuildings.com/2016/01/determining-the-most-effective-building-weather-resistant-barrier-part-1/.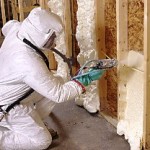 In doing my research on the whys and why-nots I found apparently there are some spray foam insulation contractors who will not spray foam against house wraps, apparently from not being able to guarantee their product would properly adhere to the house wrap.
In one particular case – the spray foam insulation contractor tried to persuade the client to use BIBS® insulation (read about BIBS® here: https://www.hansenpolebuildings.com/2011/11/bibs/) due to the potential adhesion issues.
There apparently is an adhesive additive for spray foam, which will assist in the foam being able to stick to house wraps or other slick surfaces.
As closed cell spray foam is a vapor barrier, and is resistant to moisture passing through it in either direction, adding a weather barrier to the outside becomes redundant.
If the idea is to use a product to allow for easy residing or reroofing, then a product such as clear visqueen (https://www.hansenpolebuildings.com/2013/07/moisture-barrier/) might prove to be as effective, as well as less costly than a weather barrier. This is, of course, providing the spray foam installer is willing to spray over it.
As a good, high quality steel roofing and siding should last the life of the building – installing any product between it and the siding, under the premise of making future replacement easier, it sounds much more like someone trying to make a feature into a benefit, than it does something which will add value to the client as a benefit!