Self-Disclosure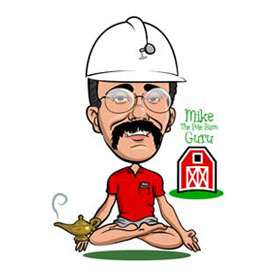 People are fascinating, we all have life stories to tell, and most of us are merely looking for others who have listening ears so we can share our stories. This dates back to the days of prehistory, when early man sat around campfires and swapped lies. The homes of a hundred years ago were frequently designed with front porches, which allowed folks to stroll through their neighborhoods on pleasant evenings and share the news of the day with those nearby.
Social media, such as Facebook, is today's front porch – where we share our stories (sometimes with TMI – Too Much Information) with our neighbors.
I conduct usually about a half dozen training sessions annually for potential Building Designers with Hansen Pole Buildings. These are single day dawn-to-dusk, in which I get to share the stories which have made up the fabric of my life in the post frame building industry.
Now I have had more than a few folks invest their usually hard earned dollars in pole buildings which I have designed, however, as I relate to the trainees, I have never sold anyone a building. It is about building credibility and trust with the clients, so they know I am looking out for their best interests – which I absolutely am.
In fact, in one four year period I had clients purchase 1006 pole buildings from me – and I never sold a single one of them!
How have I been able to do this?
Well, pay attention here competitors (I know more than a few of you subscribe to my blog and hang on every word looking for "secrets")…..
I use appropriate self-disclosure (just like in my blog articles).
And what exactly do I say?
I describe my own painful experiences. I started my first business on less than a shoe string, providing pole barn kit packages to DIYers (Do It Yourselfers). Frankly, as I look back, I was so clueless I didn't have the smarts enough to know I was clueless!
I share my personal flaws. And there are plenty of them to go around! I don't set myself up as the perfect person whom everyone (or anyone) should strive to emulate. Instead, I openly admit choices I have made which got me into trouble….and the consequences I've suffered as a result.
I make fun of myself. I have somehow been blessed with the uncanny ability to talk (or write) about my imperfections which seem to elicit a certain degree of admiration, respect, and most importantly, laughter.
I am authentic. Luckily I have no idea of how to be anyone other than myself. Having made more building mistakes (or my crews having made them for me) I have a genuine desire to help others and save them from the same pains I have experienced in my journey.
Whilst it is natural for all of us to want to present ourselves in the best light, however I have always found it best to show genuine concern for the situations of others, quickly admit my own mistakes (there have been plenty of them), reveal my true thoughts and feelings, and not take myself too seriously.
I'm able to be comfortable in my own skin, which allows for relationships to be built upon a firm basis of trust and respect.
If you are amongst the thousands who have chosen to invest in a Hansen Pole Building, I thank each of you greatly. I've been blessed to learn far more from you, than I have ever been able to give back, however I will continue to strive to be a part of delivering, The Ultimate Post Frame Building Experience™.