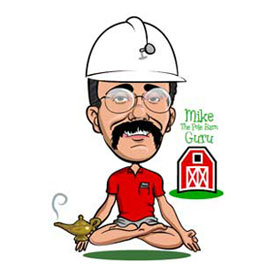 DEAR POLE BARN GURU: Was wondering about the foundation? We are wanting and looking for a plan on a pole barn for our home and he wants to know how or if you can or need to do a foundation but yet provide a crawl space? He wanted to know how you would keep the critters from digging and getting underneath? So he was thinking about if you have to have a foundation or can you build about 3′ off the ground and start the floor plan so that there is a crawl space? I hope you understand what i was trying to ask?
If you build the pole barn, can you build it…..then build 3′ off the ground and if so how do you keep critters from digging and getting in? DENISE IN GAS CITY
DEAR DENISE: The beauty of post frame construction is the embedded columns form the foundation for the building, there is no structural need or requirement for a continuous concrete foundation wall.
There are some jurisdictions which have enacted local amendments to the Building Code which address the issue of critters burrowing under the building. You can read more here: https://www.hansenpolebuildings.com/2012/06/rat-wall/.
In the end, critter prevention can be accomplished by methods just as effective as concrete, but at a fraction of the cost.
Residential post frame construction over crawl spaces are a fairly popular design solution, as I have expounded upon previously: https://www.hansenpolebuildings.com/2013/03/crawl-space/.
DEAR POLE BARN GURU:  Before I ask my question, I have to set it up. When my house was built, the poured walls for my basement were set then the frame was put on top of it and fill sand from the pond they dug was used to backfill and give me a walk out. My setting is a wooded area. Now come time for my pole barn. I was thinking I wanted it on my house garage side where there is a big hill, from the backfill. This is also where the electric comes in. My thought was to carve out the hill, put 8′ poured walls, just like the basement, then build on top of that so I can have somewhat of a two story garage. I would only put a mezzanine over half of it for wood working. On the other side of my property it's fairly low and wet so I would need to have about 400 yards of sand hauled in to build it up then I could do a standard pole style. Then the question becomes how high do I go and what style of trusses. I would also have to have electrical come in from the other side of my house or underground to the utility pole. Size I was thinking was 36X40 but I am not completely locked to this size. I could vary if it's cheaper for 32 wide by say 46. My question is, what do you think would be less expensive, having 8′ poured walls with 9′ walls on top of it or having 10-12′ walls with attic trusses or Gabriel ends for an upstairs area? Thoughts on this? BRADLEY IN HOPKINS
DEAR BRADLEY: To begin with, concrete foundations are phenomenally expensive: https://www.hansenpolebuildings.com/2011/10/buildings-why-not-stick-frame-construction/.
Rather than building up, whether it be on top of a concrete foundation, or using some sort of trusses with a bonus room in them, it is always more cost effective (as well as easier to access) when everything is built on one level.  If you can possibly create a cleared area large enough to do so, you will be miles ahead in the long run, and probably far happier with the end resultant.
If the space is not available for the increased footprint, I'd encourage you to investigate just constructing a building with walls tall enough to provide height for a full or partial second story. This will be more efficient and afford more usable space at a lower cost than other multi-level options.
As for the footprint size itself, design for the amount of space you will need to adequately do what you need to with the space – allowing for an overage, because whatever size you pick, it will never be too large. The difference in costs from say 36' x 40' to 32' x 46' might amount to a few pennies per square foot, so do not feel it is essential to construct someone's pre-determined box.
DEAR POLE BARN GURU: Hello, I am building a 40X64X14′ pole barn. Post 8′ O.C, trusses 4′ O.C. And 3 12X12 doors on the eave (load bearing) wall. The roof will be designed for 30psf snow load.
My question is garage door headers, I am planning on using lvl beams. Most LVL manufacturers want lateral support every 24″ but my trusses are 48″ O.C. How can I accomplish this?
Or, would 3-2X12s put together be sufficient? KASEY IN YORK
DEAR KASEY: This is why you would be most prudent to invest in an engineered pole building from someone who really knows what they are doing. Seat of the pants engineering often ends up kicking one exactly there – right in the seat of the pants. The three ply 2×12 idea for headers might work provided the lumber is NOT Southern Yellow Pine (SYP), the roofing is 29 gauge steel over purlins and the building has no ceiling and no overhangs. Change any one of those and the beam will probably be overstressed, which could result in a potential failure situation. An appropriately sized (always get it in writing from the registered design professional who designed your building) LVL would also be appropriate. Read more on LVLs here: https://www.hansenpolebuildings.com/2013/01/lvl/. Bracing can be accomplished by mounting the top jamb for the overhead door (most typically a 2×8) directly to the underside of the header and nailing sufficiently through the jamb into bottom edge of the LVL with closely spaced 10d common LVL nails.