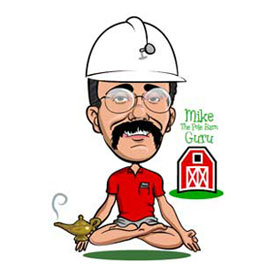 Welcome to Ask the Pole Barn Guru – where you can ask questions about building topics, with answers posted on Mondays.  With many questions to answer, please be patient to watch for yours to come up on a future Monday segment.  If you want a quick answer, please be sure to answer with a "reply-able" email address.
Email all questions to: PoleBarnGuru@HansenPoleBuildings.com
DEAR POLE BARN GURU: What is the average square foot cost to build a pole barn home? Not including the property. JOHN IN KENNEWICK
DEAR JOHN: This has always been my bride's most favorite question to answer. She will tell you it is $3 per square foot, but you have to cover over an acre, live somewhere there is little or no snow or high winds, have no walls and a bare galvanized roof.
For most people, this scenario is just not a viable answer. No different than with any other form of construction, post frame (pole barn) homes can vary in price per square foot significantly depending upon what you do with them.
What is for certain – the pole building home will be less expensive per square foot than other permanent forms of construction!
DEAR POLE BARN GURU: Is it possible to put a loft/storage/living qtr in a 14 foot tall Pole barn?
DEAR JIM: Possible, yes, however it is going to depend upon a myriad of possibilities.
If you want living quarters, it requires each floor to have a minimum headroom of 7'6″. To achieve legal height from sidewall to sidewall requires an 18′ sidewall. If you only want the living space to be a portion of the loft (in the middle), then a lower eave height (like 14′) could be possible.
This could be achieved by pole and raftering your building. Instead of clearspan trusses, interior columns are strategically located to support rafters. This is going to be the least expensive method and yield the most usable interior space.
The other option is attic or "bonus room" trusses. This will give a boxed out central "room". This option will be more expensive, however it does eliminate the need for interior columns.
Increasing roof slope, within reason, will also help to gain usable floor area.
Read more on bonus rooms here: https://www.hansenpolebuildings.com/2012/01/bonus-room/
DEAR POLE BARN GURU:  We have a pole building that is finished inside. The pole in the front corner of the shed area has sunk. This resulted in the adjacent man door being jammed and unusable, the two adjacent sliding windows being out of square (one barely closes) and the dry wall being badly cracked in the two adjacent bays (front and side). It has begun pulling away from the ceiling and the side of one large vertical crack is out of alignment vertically with the other side. I am not confident the builder installed a concrete footing under the post. He said the hole was 3.5 feet deep (The engineer specified 4 feet). It was filled with compacted crushed concrete and supposed to have been capped with 2 feet of concrete. A photo taken before they poured shows less than 2 feet. The builder and his engineer looked at the building in Oct. 2014 and agreed the post was sinking. They suggested we wait to see if it stops before doing anything. We do not know if the post has stopped moving. At the builders request, I had Uretek (https://www.uretekusa.com/) come out and submit a proposal to stabilize and realign the post. The builder returned last week and wants to remove the drywall and metal on the two bays, cut the framing loose, realign it, and reassemble it with new metal. He does not want to go the Uretek route and would rather do a cosmetic fix. We are very concerned about continued/future movement.
There are no ground water issues, The location is close to the edge of a slope which is bordered by large boulders. I don't believe the 3.5 foot post depth would have made it through the dirt/gravel that was used to level the site. I do not know why it was not 4 feet as specified by the engineering.
Do you have any suggestions on how you might repair this problem if you encountered this? We believe any fix that does not include stabilizing the pole is not a good option.
Thank you,  BOB IN OREGON CITY
DEAR BOB: In order to find a permanent solution, I normally start from what is the cause. From the information provided, it would seem the issue may lie (or at least begin) with the fill which may not have been adequately compacted.
Four years ago, I wrote an entire series on soil compaction, which begins here: https://www.hansenpolebuildings.com/2011/11/site-preparation/
I've also addressed how to (or not to) repair a sagging pole barn: https://www.hansenpolebuildings.com/2015/01/sagging-pole-barn/
In your particular case, I'd begin with bringing in a competent soils engineer who can determine if the soil is (or was) adequately compacted to be able to support the building. If it was not, then the builder is pretty well off the hook (unless he did the site prep) for liability.
The same soils engineer can make a determination as to whether the footings poured (or lack thereof) were adequate to support the building. From your description, probably not – although this will be much more an issue of diameter, than thickness of any concrete collar.
The sagging corner should be able to be slowly raised back up, without the need to remove interior or exterior finishes, unless they are damaged beyond repair.
Your soils engineer can also design a column footing which will be adequate (given soil conditions) to prevent all except for minimal settling.