With winds topping out at an estimated 100 mph, the severe weather blew across Scotland County, Missouri quickly on a recent afternoon. While the bulk of the county escaped with only minor damage, the National Weather Service reported a tornado touched down between Memphis and Arbela at approximately 4:40 p.m. on November 11th.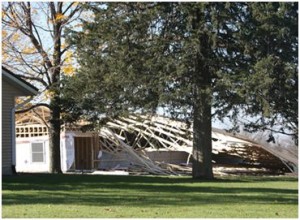 The EF-1 twister had an estimated max path width of just 75 yards, and was on the ground for roughly three minutes, wreaking havoc on a 2.5 mile path which started just north of Highway 136 at what is known as "Blind Man's Corner" and traveled northeast.
The Scotland County Sheriff's Office reported damage at two properties. A pole building under construction at the Aaron Fox residence sustained major damage.
"We were actually working on it and had just quit as the rain started," said Fox. "We had got down and were putting up the tools when it got bad I'm just glad no one got hurt."
Fox reported the loss of an old barn and a shed as well, as the storm traveled northeast, destroying the two outbuildings while relocating a number of large hay bales.
My long time readers have read my saga of partially constructed buildings and wind here: https://www.hansenpolebuildings.com/2014/03/wide-span-trusses-2/
I use the shoebox description to explain how buildings work: https://www.hansenpolebuildings.com/2011/12/lateral-wind-loads/
When a building is under construction and has only portions of the exterior sheathed, the structure may act as a partially enclosed building – where wind forces are multiplied upwards. Buildings which are designed to be fully enclosed, can be far overstressed when paced in a partially enclosed situation.
Once the process of sheathing a building has begun, it should be completed as expeditiously as possible. Leaving a partially enclosed building exposed to possible freak wind occurrences is a risk for damage or failure which increases with each passing day.