Here are the words of Ginnie's husband – someone who understands:
"Aaaargh! We're never moving again! What we thought was going to be an easy melding of two households into one, has proved to be a nightmare times two. Remember that 40′ x 60′ pole barn on the farm that I was bragging about, the barn that was going to give us all the storage and welding space we needed?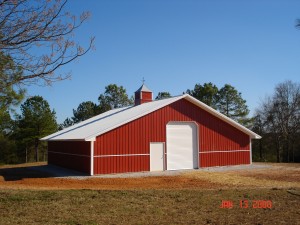 Well, you guessed it. Chock full. And this was after two, "Everything Must Go" garage sales, curbside giveaways, and donations to the Salvation Army (Quarter Maybe More Store in Mt. Pleasant.) I'm filling the chicken house now—the smaller shed beside the barn that Ginnie and I were planning on raising chickens in come spring. Anything with a roof on it. The mice came out and personally thanked me."
I have now been involved in somewhere around 17,000 pole buildings. Yep, it is a bunch. There is one thing every one of them has in common – I have never had a single one of them come back to me and tell me, "You know the pole barn I got from you, well it is just too big"!!
My encouragement always is to avoid having to put things in the chicken house (besides chickens).
Planning a new barn, shop, garage, or other pole building?
Construct the largest building which will fit on your property and you can economically justify.
Post frame buildings come with an economy of scale – for the most part, the larger the building size, the lower the investment will be per square foot. Pretty slick deal!
And, if the new building actually is too big, make sure to drop me a note and let me know. After all, there is a first time for everything!