The answer is – yes!
Back in the late 1960's in Spokane, Washington Joseph "Joe" Mazzie started Pacific Metal Buildings. Joe is from my father and uncle's generation and, being in construction (and living in the same general area of town) they were acquainted.
Joe developed a reputation as a shrewd businessman, as well as a colorful character. The story is told of Joe driving around town in his "comfortable" car, with ten grand and a revolver in the jockey box. If Joe found a deal on something he could resell, he'd negotiate an even better deal by offering cash on the barrel head for it.
He found he could buy 'seconds' (for more info on seconds: https://www.hansenpolebuildings.com/2014/06/1-steel/) from the steel roll forming companies for 50 cents on the dollar. He bought pretty much all he could, storing the panels in one of several of his warehouses. When I was building post frame buildings in the 1990s, we would occasionally have a client decide they just had to have a different color than what they had ordered – and Joe would buy the original panels from us at the same price level.
Joe was smart, he built stick frame barns, garages and shops – running the walls steel panels horizontally, so it would not matter where the splices were, as there were vertical studs every two feet! This made a great way of using up whatever he happened to have in inventory.
Hansen Pole Buildings has provided a limited few clients with wall horizontal steel siding, for aesthetic reasons. Some folks just happen to like the look. There are some considerations to be accounted for.
In order to attach the panels, wood framing needs to be provided vertically either between or across the wall girts.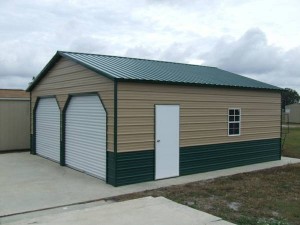 Most steel roll formers are limited to the production of panels over 40 feet in length. Walls over 40 foot long, will require splices, which some clients may consider unsightly.
Steel panels have a net coverage of 36 inches, plus an overlap. The siding should be held up four or more inches from the bottom of the pressure preservative treated splash board. To minimize material waste, eave heights (for buildings without overhangs) or distance from grade to the underside of enclosed sidewall soffits should be measurements such as 9'6", 12'6" or 15'6".
Standard corner trims are designed to 'land' in the flat area of vertically placed steel panels. The same trims can be used, however expanding foam closures should be placed underneath the flanges of the corner trims, to seal the spaces between the high ribs.
Like the affordability and maintenance free aspects of roll formed steel siding, but want a different look? If so, horizontal steel siding might be the solution!