Welcome to Ask the Pole Barn Guru – where you can ask questions about building topics, with answers posted on Mondays.  With many questions to answer, please be patient to watch for yours to come up on a future Monday segment.  If you want a quick answer, please be sure to answer with a "reply-able" email address.
Email all questions to: PoleBarnGuru@HansenPoleBuildings.com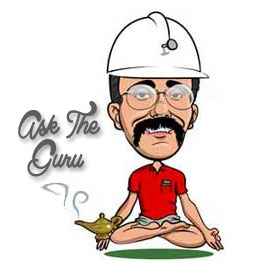 DEAR POLE BARN GURU: in ordering a building that I want a 16′-0″ clearance from finish concrete to bottom of truss, what would the eave height be to accomplish this dimension? ART IN SULPHUR
DEAR ART: First it might be handy to do a review of the definition of "eave height": https://www.hansenpolebuildings.com/2012/03/eave_height/
In most cases, adding 3-1/2 inches for the concrete slab and six inches for the roof system are adequate. Unless you have a very wide clearspan on the trusses, an excessive wind load, or a partially enclosed building it is generally fairly safe to add a foot to the wanted interior clear height to determine the needed eave height.
DEAR POLE BARN GURU: If one plans to convert a new pole barn into a livable structure and if the county allows for a concrete stem wall, a full concrete slab or cemented posts with floors suspended 12" above grade as measured from the bottom of the floor joists, which of these options is best if budget is the biggest concern? KEITH IN DOBSON
DEAR KEITH: Anything involving large quantities of concrete is going to get expensive in a hurry.
Personally, I would prefer to have an elevated crawl space (https://www.hansenpolebuildings.com/2013/03/crawl-space/) as it is far more comfortable to live over and provides easy access for underfloor utilities. As long as the building columns extend below the frost line and are properly backfilled with concrete to support dead loads and prevent uplift forces everything should work well and save the unnecessary costs of a foundation (https://www.hansenpolebuildings.com/2011/10/buildings-why-not-stick-frame-construction/).
DEAR POLE BARN GURU: We have a home site with an existing 30'x70′ pole barn in Grant, MN. We would like to insulate it, raise the middle two (of four) garage doors to 10′ from 8′ to match the other two, replace the garage doors and entry doors, install a bathroom and utility sink, put in a concrete floor, and put a new front on it to match the house we are building. Do you do this kind of work? JON IN GRANT
DEAR JON: Thank you very much for your consideration. Hansen Pole Buildings is a supplier of custom designed pole barn kit packages only. We do not perform construction services of any sort, anywhere. You might consider placing an ad under "Gigs>Labor" on Craigslist, carefully outlining the scope of the project.