About a year ago the Technical Department of Hansen Pole Buildings was contacted by the manufacturer of the Toci Ground Anchor: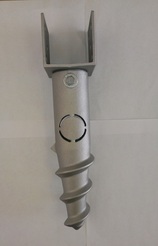 "We manufacture the Toci Ground Anchor, an anchoring device that you may find useful in your line of business. The Toci Ground Anchor safely secures any outdoor structure or building to the ground without digging. Our anchor is easy to install, using a rebar/rod or using our customized attachment with your auger or bobcat. The Toci Ground anchor is also a long term and adaptable alternative to concrete and cinder blocks, while continuing to stand up to heavy wind loads. The Toci Ground Anchor also has no soil limitations.
With its strength and durability, the Toci Ground Anchor is the perfect way to provide your customers the surety of a well installed shed or barn. Please visit our website for videos of our anchor and more information, www.tocihardware.com .  I will be happy to follow up with you via telephone within the next few weeks, but for questions in the meantime, please call me at (919)794-5990. I look forward to further communication and thank you for your time!"
To which I responded:
"How would you propose to attach a pressure preservative treated column of a post frame building to the top of one of your anchors to be able to resist moment loads?
Also – for bearing, do you use more than the diameter of your anchor via some complex formula which would be accepted by the IBC?"
And the reply:
"Thank you for your questions! To attach a column to our anchor you would use either our 4×4 attachment or our half bracket attachment and install one of our anchors at each stress point of your structure. As for IBC codes, our anchor is currently under testing to meet IBC requirements. However, many of our contractors have used our anchors for buildings in which you do not need a permit. This data should be available within the next few months. Please let me know what other questions you have! Hope you had safe travels!"
In checking out the Toci website, I'm not yet finding any IBC (International Building Code) approvals. The Toci ground anchor is probably a great product for simple, no permit required applications as featured on their website – mailboxes, fences, play houses…..but not for a "well installed shed or barn".