Regardless of what side of the climate change argument one is on – it has been snowing in Massachusetts this winter.
A lot.
Late January's Winter Storm Juno alone brought up to 36 inches of snow in some parts of Massachusetts. https://www.weather.com/storms/winter/news/winter-storm-juno-snow-totals-wind-gusts
As if Juno wasn't enough, another storm followed – leaving so much snow on the ground it forced the postponement of the celebratory parade through Boston for the Super Bowl Champion New England Patriots. https://www.cbsnews.com/news/flash-freezing-now-the-big-concern-in-northeast/
So, how much snow is too much for one's roof?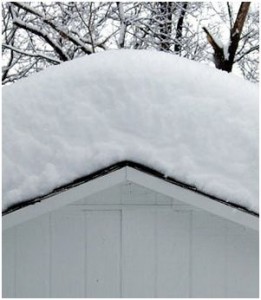 As a basic rule of thumb, consider saturated snow weighs in at approximately 20 pounds per cubic foot. This weight is based upon a 25% moisture density, which may be conservative or liberal, as the actual moisture content of snow can range from approximately 1% to 33%.
Using the 20 pounds per cubic foot, this means every inch of snow will add 1-2/3 pounds per square foot of weight!
Any ice build-up on roofs would need to be added in as well. Use 5.2 pounds for each inch of ice depth.
For those who want to get scientific, the actual roof snow load can be checked by cutting a one foot square the full depth of the snow and ice build-up on the roof, dumping into a plastic bag and weighing the contents.
Modern buildings are designed for a snow load which assumes the roof snow load will be exceeded anywhere from once in 25 to once in 100 years, depending upon the Risk Category of the structure. The actual International Building Code language on risk categories can be read at: https://publicecodes.cyberregs.com/icod/ibc/2012/icod_ibc_2012_16_par023.htm
Buildings which were not constructed under Code requirements are often at far greater risk to collapse under snowfall. When rain falls upon snow, the weight of the roof snow can increase rapidly. Heating a building, in an attempt to melt the snow off a roof, can result in ice dams at the eave sides of the building – compounding the load problems.
Please be aware of the potential dangers of shoveling or raking snow from a roof. Besides the potential damage to the roofing materials and structure, there are such factors as a person sliding off the roof, falling off a ladder, overexerting themselves, or injury from snow sliding on top of them.
I can't make recommendations on when to remove snow from any particular roof. It is up to the individual building owner to consider the benefits and dangers of snow removal and determine their own course of action. If your structure is in question, it is always best to consult a registered professional engineer.