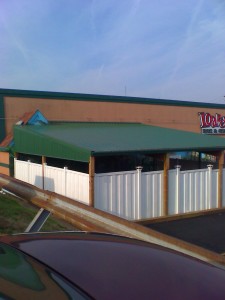 Back in 2007, we designed and provided a pole building kit package for Chris W. in North Carolina. Chris' building is 40 foot wide by 50 feet long enclosed with a 14 foot eave height. Along one sidewall his building has a 20 foot wide roof only shed, with a 10' low eave.
In order to achieve the maximum amount of clear height in the shed, our design utilized LVL (Laminated Veneer Lumber) for rafters to clearspan the width of the shed – without the need for prefabricated roof trusses, which would have limited vertical space.
Read more about LVLs here: https://www.hansenpolebuildings.com/blog/2013/01/lvl/
Chris has found one of my rules of pole buildings to be correct – your worldly possessions will increase to fill all available space plus 10%!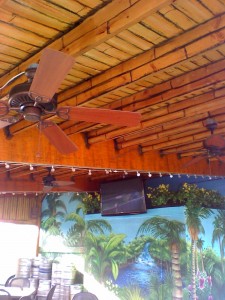 In fact, after about 16,000 buildings, I am still awaiting the first phone call from a client to let me know their building is just too big!!
Chris' idea is to add a side shed on the opposite side, at least 24 foot wide, and perhaps as great as 40 feet!
And it CAN be done!
For Chris, or anyone else considering doing something similar, there are some design concerns. First – with a roof slope of less than 3/12 the warranty on the roof steel will be void. I feel the issue is more of one of keeping things from "sitting" on the roof panels, than anything else.
Second – Chris is not in an area prone to snow, but in snow country, the weight of snow sliding off from the main roof onto the lower sloped shed roof has to be considered.
So (in case you are wondering), how big of an LVL does it take to span the 40 feet? With snow not being a factor, my rough calculations so far indicate something around 3-1/2 inches in width by 14 inches in depth (obviously subject to review by engineering)!
Pretty amazing stuff!