I really enjoy the Hansen Pole Buildings' Designers. They honestly want to know, and in our industry there is a lot to know. A typical day for a Building Designer can run the gamut from the farm, to the office, home or the store as well as enjoying clients from everywhere in the country.
B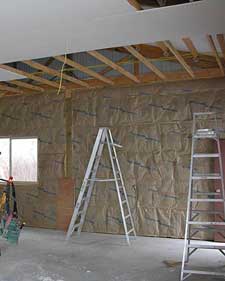 uilding Designer Doug asked, "I'm sorry to keep beating the insulation horse, but I have a client who wants to put up a 60×100 building on his timberland. I asked him about heating it and he wants to put a wood stove in it. So he wants to heat it occasionally. It's in Clackamas County, OR, so it will get cold. 
 If this were your building and you wanted it to be cost and wood-stove effective, what would you do?
 I'm tempted to give him one quote with reflective roof insulation and house wrap, and one with full batt insulation. Am I going down the right road here?
 Thank you for your help."
 I so appreciate being asked how I would do something. Me – I am frugal, but I will do it right. And most aesthetic elements of pole buildings also have a function and add value for the investment.
My response to Doug: "I rarely heat mine, but I did it right, so no one will ever need to mess with it. And the resale is huge from a well done garage.
Me (this is exactly what I did too)….I would commercial girt the walls, use housewrap on outside and BIBs insulation on the walls; ceiling – ceiling load plus ceiling joists, raised heel trusses (means eave height needs to be taller), vented overhangs & ridge, blow in R-60 fiberglass over 5/8″ Type X drywall.
I didn't do it just because I could, or could afford it – it was about doing it right."
 Read more about climate control here: https://www.hansenpolebuildings.com/blog/2012/04/climate-controlled/
 The cost of a building, is in deciding to do it at all. Once this hurdle has been crossed I always encourage clients to build the largest building which is economically feasible and will fit on your site. You only get one chance to do it right or wrong – please, if at all possible do it "right".