Very few post frame building kit package providers service more than a very small geographic area. While this may give them an intimate knowledge of a local marketplace, how buildings are most often constructed in their area, and expectations from Building Officials – it does come with some risks.
In the event their local economy has a hiccup, they are often in trouble.
For the very few who spread their risk of encountering economic bumps in the road, by servicing larger geographic regions – most look upon their opportunity as one large homogenous market.
The problem is, not every part of the country is used to having pole buildings constructed the same way. The choice is to try to force people into a post frame building style they are not comfortable or familiar with, or create "local" options.
I relate to this personally from a geographic move I made in the late 1970's. My Dad and Uncles were framing contractors in the Spokane, WA area. Typical residential construction was full basements, poured using plywood concrete forms. Appropriately sized floor joists were placed from foundation walls to interior beams or bearing walls, with plywood over. And there was no framing lumber other than kiln dried.
Culture shock in 1979 when I moved 400 miles to manage a roof truss manufacturing plant in the Willamette Valley of Oregon. Foundations were formed up by stacking up 2×8 #3 lumber. Most often they were crawl spaces, not basements. In the crawl spaces, 4×8 #3 beams were placed every four feet and the 2×8 form lumber was installed across the beams, perpendicular to the beams, and placed flat. The shocker – all of the lumber was green!!
All of this makes the regional dissimilarities of post frame construction seem minor.
In the Eastern U.S. the most familiar post frame building style places columns every eight feet, with headers (also known as truss carriers) between the columns to support prefabricated wood roof trusses spaced either two or four foot on center.
Moving to the Central U.S., the columns could be anywhere from six to ten foot on center, with single trusses aligning with the columns, and generally 2×4 roof purlins placed on edge.
In the West – columns are usually every 12 feet, with double trusses aligning with the columns and 2×6 or larger roof purlins on edge.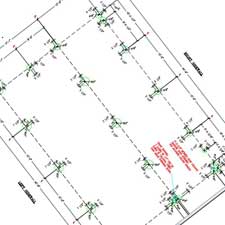 The "every day" Hansen Building is a hybrid, having incorporated the best structural and aesthetic features from all across the country. As well, components are selected for ease of installation by those doing the assembly.
While the great majority of the Hansen Pole Buildings' clients prefer and indeed invest in the "classic" Hansen Building, we have found catering to regional needs appeals to the broadest spectrum of clients, as well as their builders. Everyone has their own "comfort level" of building style commonly used in their part of the country. As long as the building is designed to the local building code, we see no reason to force folks into a building style with which they are not familiar nor comfortable. After all, it is your building!