When Mike the Pole Barn Guru blog was first begun two years ago, I had it in my mind it might be possible to write on say 100 or so topics, provided I really put my mind to it.
For those who are keeping track, this happens to be blog #500!! And yes, there are those who do keep track. I've received emails from clients who have referenced blogs by number – "remember back in blog #253 when you said…."
Besides you, who reads my posts? Co-workers; others in the post frame, lumber and construction industry; past, current and future clients; Building Officials; Registered Design Professionals (architects and engineers), the list is seemingly endless.
I have to give thanks to these thousands of subscribers who read my posts every single work day. Networkedblogs.com has Mike the Pole Barn Guru Blog ranked as the fourth most followed construction blog – ON THE PLANET!!
And never would I have guessed some of my posts would have been read by 70,000 people. I am overwhelmed.
Why do I keep writing?
Because I get feedback, support and comments about the posts on an almost hourly basis. As long as I can continue to keep readers entertained and educated, then it is worth the effort.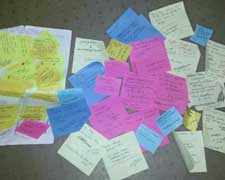 The most difficult part for me, is how to decide what to write about next! At last count (remember I thought I might make it to #100), I have over 700 topics yet to write about. My darling bride laughs at me when she sees me dragging out my huge stack of "topics" written on post it notes.
Even though I have so many topics to write about now, I am always on the lookout for more. Have a topic you would like to have addressed, feel free to shout it out to me. Chances are, if one person has an interest, hundreds more will as well.
Thank you to all readers…for your continued support and inspiration.  And mostly – for contributed so much of the "fun" factor in my job.
Onward towards #1000!
Write to me at: PoleBarnGuru@HansenPoleBuildings.com