From Friday – Nothing is worse than a roof gone wrong. Leaks frustrate everyone involved, and are usually avoidable. Poor design and poor installation are equal factors in the roofs which just are not happy.
If you missed my blog Friday –you may want to review it as the first part of my Rule for a Happy Roof.  Or should I say Rules for a Happy Client with a new roof?!
Vent Plumbing near the Ridge
Like chimneys, plumbing vents should penetrate a roof near the ridge rather than near the eave, for two reasons: While ridges are dry, eaves are wet. Eaves see much more water over the course of a year than ridges, so any defect near an eave will leak more water than a defect near a ridge. In north country, snow and ice can tear a plumbing vent right off a roof, especially if it is located near the eave. It's much safer higher up the roof.
In a pole building with a vented unconditioned attic, it's easy to install a couple of 45° ells in the vent pipe so the pipe penetrates the roof near the ridge. The same approach is also possible in a barn with a trussed vaulted ceiling, although the bay in which the vent pipe is run will not be as well insulated as the other bays.
Choose Metal Roofing
Despite there being many "good" choices for roofing materials, I have one that stands out from all the rest in every way. I'm just expressing my opinion here.
Clay tiles and slate are expensive. Concrete tiles are fragile and tricky to walk on. Cedar shingles are beautiful, but they are time-consuming to install and (because of their flammability) are illegal in some jurisdictions. Imitation slate and imitation wood shingles look like they belong on a 70's restaurant. EPDM and roll roofing, if visible, are ugly. Asphalt shingles, they have their downsides, of course — they are made from petroleum, are susceptible to algae, and don't last very long.  First good wind comes along and there are shingles blowing all over your, and the neighbors, yard.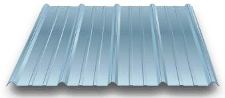 My favorite type of roofing is ordinary through-fastened steel roofing. It's available in a wide variety of colors and can be ordered cut to any length. It goes on fast, lasts a very long time, and is recyclable. It costs far less than standing-seam metal roofing.
Flash it right
Installers of steel roofing often do a sloppy job with flashing. When I install steel roofing, I always plan carefully for any roof penetrations like vent pipes, chimneys, or skylights. There are many really good flashings available, and my experience has been, they do an excellent job.
Anticipate Ice Dams
Building in a climate with snowy winters? The roof should include details to minimize the likelihood of ice dams: If the building is heated, use raised-heel trusses. Install a very deep layer of insulation on the attic floor. The insulation needs to be full thickness from outside of wall to outside of wall. Make sure there is adequate baffling to keep attic insulation from spilling into the soffit and to prevent wind-washing. Always use reflective insulation between roof purlins and roof steel (with the shiny side up).
Avoid valleys and, if possible, don't install gutters.  If gutters are necessary, make sure they are installed below the plane of the roofing so they won't prevent ice from sliding off the roof.
My "perfect" roof has a straight gabled design, no "holes" in it other than what is necessary for pipes or chimneys, a 4/12 or steeper slope, and is covered with steel.  That's it.  Sometimes just keeping it simple not only saves money at time of construction, but for many years down the road.