Is a barndominium in your future? Considering building D-I-Y to save tens of thousands of dollars, but afraid you might not be able to pull it off?

You'll want to watch Kevin and Whitney's journey beginning at www.youtube.com/watch?v=YMUi9B78GDs. This series is truly excellently done.

Today, I am going to skip forward months from their beginnings to their in-depth review of their Hansen Pole Buildings' barndominium kit (www.youtube.com/watch?v=sYGF1YY_yZQ). Kevin has graciously done one thing we wish all of our clients would do – provide us with actual feedback!

For over 20 years Hansen Pole Buildings has provided thousands upon thousands of fully engineered post frame buildings for our clients in all 50 states (yes – even Alaska and Hawaii). Our buildings have evolved dramatically over two decades, thanks in part, to feedback from clients. We constantly search for ways to provide The Ultimate Post Frame Building Experience™ for each of our clients. If you (whether client, potential client, vendor, professional builder or vendor) have suggestions on how we can provide a better valued product (where any added investment is seen as being well worthwhile), more affordable or easier to assemble (without a sacrifice in quality) please Email me (Mike The Pole Barn Guru™) at PoleBarnGuru@HansenPoleBuildings.com.

Moving forward – Kevin reached out to me with this on a recent late Friday afternoon:

"Hi! This is Kevin Hart from the Hart and Home YouTube channel. I've got some content that's in various stages of development and I was wondering if you guys might be interested in working with us on a couple things.

The first is just some commentary on a kit review video that is coming out on Sunday. I go through a bunch of stuff that I liked about the kit and some things that I think I would do differently next time. Of the things that deviate off the beaten path I'd really love to have your response to those ideas in regards to why someone may or may not want to do that or possibly what your reasoning was as to why you recommend doing it the way you have in the plans. I would take your response and make a follow up video in the near future.

The second idea I'm kinda kicking around is an execution post mortem. My hope here is that maybe we can take a look at how I interpreted your plans and instructions and the systems/methods I used to achieve them and then possibly create a video together or just give me some notes I can relay to my audience about how I could have done things better and faster or correctly. The aim here being to point out errors and possibly some good things that I did that might be helpful to your future kit buyers and diy post framers generally. I've got a 15 minute time lapse video out now that you might have seen that I think we could probably use as a starting point of discussion.
Would you guys be interested in anything like that?"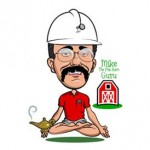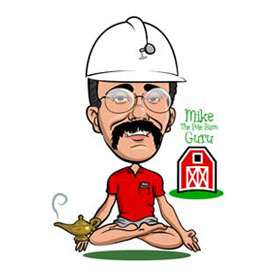 Mike the Pole Barn Guru says:
When I returned to work Monday, I was instantly all about working with Kevin on this, precipitating this article!

I will be reacting to points brought up by Kevin in his review video (in order of them appearing). So gather up your friends and family, some popcorn and take a watch for yourself, in our next thrill packed installment!