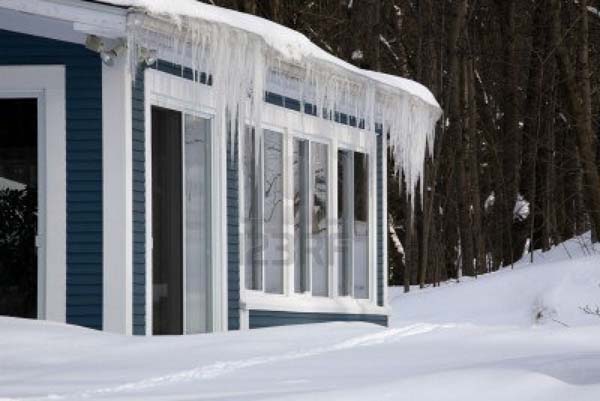 Warming up to Ice and Snow
Ice and snow build up in pole building rain gutters and along eave lines can cause ice dams. Ice building up along roof and gutters can cause water to back up under roofing, causing serious damage to the building's interior. In some instances, ice buildup along eaves can put weight on the roof beyond its design capacity, causing catastrophic roof failures.
Can you file an insurance claim?
While damage may be covered under the building's insurance policy, it is best to get an estimate of any damages, prior to filing a claim. In the event damage is not much more than the policy deductible, it is probably not worth filing a claim which could increase future rates.
Heating systems for roof and gutters protect throughout winter by keeping roof gutters and drainpipes safe from dangerous icicles, frost erosion and heavy loads of snow and ice.
The damaging effects of roof ice and snow can be seen on many older structures. The buildings were built prior to modern Building Codes and were not designed to withstand the extreme weight from snow and ice accumulation. This can lead to water entering the building, and eventually unsafe conditions which could cause the building to become structurally unsound.
Radiant Roof Heating Systems
A radiant roof heating system is a common solution for many snow zone pole buildings. Installing a quality heated roof and gutter deicing system eliminates potential damage from snow and ice buildup.
There are a variety of roof and gutter ice melting solutions. Deicing cable is a common choice for roof heating applications. The ice and snow melting kit consists of heating cable, an electronic thermostat and other installation accessories. The versatile snow melting system can be installed in virtually any type of roofing application for residential as well as commercial properties. Deicing cable can be used on metal, shingle or tile roofs, and can be applied on roof and gutters, drainpipes and valleys.
Snowmelt Automation
Automated roof heating systems feature a main controller which activates the snowmelt system only when moisture is detected and the temperature is below 39° F. This provides an extremely cost-effective solution for large areas of roof snow and ice melting. Outdoor temperature sensors are intended for roof and gutters, while moisture sensors and wire sensors are normally fitted inside gutters where the melted runoff collects. The actual number and placement depends on the size and nature of the particular roof heating installation.
Don't forget Safety!
Resist the temptation to break icicles off gutters. Icicles can become projectiles which could cause serious damage. Bringing down one may bring down many, which those underneath may not be ready to dodge. If the snow or ice is too deep on the roof, do not climb on a ladder or the roof; instead let a qualified snow contractor conduct the removal.