Our company prides itself on only offering the highest quality products and services to our potential clients. Because of this, our pole building prices are usually inherently higher than the "chuck in the truck" competition. The only way to get around this is to emphasize the quality of the product, and that we work to the customer's advantage to not have a product where you will be replacing components or your entire pole building in only five or six years.
Hansen Pole Building prices mean:
Providing seven or more page, full 24" x 36" blueprints – custom drawn for every building is not cheap, but it does give the location and placement of every board on the building, as well as a layout for all steel siding panels.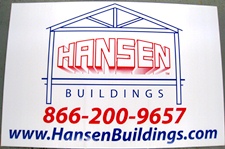 Mailing out a printed Construction Guide which walks through every step of assembly includes written instructions, diagrams and actual photos, along with the prints, saves clients or their builder hours of time in assembly. Between the two, little or nothing is left to the imagination.
Yes, there are places in the country where "Chuck" is providing not only green framing lumber, but also pre-fabricated trusses which are built from green lumber. Besides the possibility of warp, twist and cup from the natural drying process, these members are also significantly heavier.
No ungraded, utility or #3 grade lumber used, even as blocking or bracing. This minimizes or eliminates downfall and unusable pieces.
All of our structural building columns are treated to UC-4B standards for structural in ground use. As many lumber yards and big box stores carry nothing treated to beyond UC-4A, there are a lot of under treated columns being used.
Splash planks (skirt boards) are again all at least #2 grade and are minimum 2×8, while Chuck may send 2×6 and/or utility grade.
Standard design features two ply double trusses, rather than using single trusses, which are prone to catastrophic failures under extreme loads.
Prefab trusses on the ends of the building – instead of having to field cut rafters and try to align them 14 or more feet in the air.
Standard designs use all 2×6 roof purlins and wall girts which are 8' or more in length.
Steel roofing and siding which is cut to correct lengths – minimizes cutting, again saving time in assembly. No #2 grade or seconds are used for roofing and siding panels.
Powder coated screws keep the paint on the color matched screws, where it belongs – not in chips on the ground, leaving "shiny spots".
Full trim packages, which include base trim (rat guard), fully trimmed overhead door openings (with one piece trim), trim at tops of sidewalls, fully trimmed fasciae (with overhangs). We leave no untreated wood exposed to the weather.
Form fitted closed cell foam closure strips at eaves and ridge on the roof – as opposed to either no closures, or open cell strips which decay in a matter of just a few years.
All entry doors are commercial grade steel with steel jambs, and factory finish painted. No $119 primed lumberyard doors with wood jambs.
Sliding doors are all metal framed, no wood to warp, twist or split. Light weight and durable.
All overhead doors come with vinyl weather seal around the opening for a superior seal.
Most reflective insulation is 48 inch wide and square edged, requiring hours to tape the seams. Not us.  We have it manufactured with a tab which includes an adhesive pull strip.
Hansen Pole Buildings offers value added at every step. Chuck';s pole building prices may be cheaper, but he doesn't do many things with anyone's benefit in mind other than his own pocket making a quick buck.