To close out the past two weeks' blogs of discussing the different views of pole building plans and what to expect from your building department, there is one more subject we should discuss…those little details which make all the difference.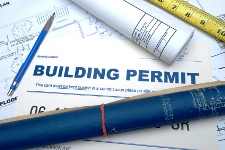 Plans are most often drawn in ¼" = 1 foot scale.  Details are drawn in larger scales in order to "zoom in" on any area where you just need to take a closer look in order to clearly understand how things go together. These scales may be double or even triple the usual size.  As I've mentioned several times in previous writings, it's the connections which usually are the strong points (or weak depending up on your view) of the building.
Details on the plans we provide are shown on the sheet where they most appropriately apply.  The post hole, concrete fill dimensions and relationship to an optional concrete floor are shown on the…pole layout page, and so on.  Interior and endwall connection details show whatever hardware you are to use, along with the minimum number of fasteners and any specifics on how to apply them.  There is also a 90 degree view, for easy understanding no matter how you "look at it".
Truss web bracing and bottom chord bracing help to "stiffen" your building against nature's forces, so although are not really connections, overall contribute to the stability of your building, and its resistance against movement of any kind.  They help to keep your building in, well, the shape it's supposed to be, a square or rectangle.  Trapezoids and parallelograms tend to eventually end up where they belong…on the ground.
If you order optional features such as overhangs or require shearwalls, they also will have specific details on how to install them.  Over the years, every time a client has told me, "I don't understand this" and I've drawn a new sketch or sent a photograph to illustrate a construction feature, I have added it to our Construction Guide.  I always want the next customer to benefit from the last one's experience.
And don't worry; we never desert you to stare at the drawings without knowing where to start.  Every detail is listed in the Construction Guide, along with step by step instructions on how to put it all together.  Since my recent overhaul of the Construction Guide earlier this year including more drawings and specific step by step instructions, our technical support calls have dwindled to almost nothing.  This along with pictures of beautiful buildings and frequent happy client testimonials tells me folks find the plans and instructions to be not just adequate but exceptional.  I'm kind of like the old Maytag repairman, happily sitting in my chair with no breakdowns requiring my assistance to "fix".  And this is the best answer for all of us.
Want to see a sample detail?  Click here to view:
https://www.hansenpolebuildings.com/sample-plans.htm
Next week I will discuss something other than plans. Stay tuned to find out!