Beware of Your Neighbors When Planning a New Post Frame Building
Even though your new post frame building may be entirely legal within the parameters established by your permit issuing authority, sharing planning with your neighbors might avoid upset neighbors and legal costs.
From a May 8, 2018 story by Mike McKnight at www.wowt.com:
"A dispute among property owners just west of Fremont has led to a court battle. Both sides are spending thousands of dollars on attorney fees.
Tensions are building between neighbors because of what's being built by one on land next to the other's. Dave Christensen said, "Come out and look at a building from your back yard every morning."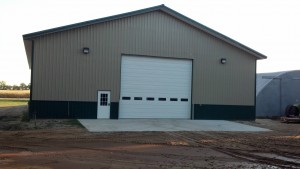 Dave Christensen and Sandy Cadwallader share a home and dismay over their neighbor's construction of 60 by 199 foot pole building. It's 17 feet high and even higher on the base.
Cadwallader said, "It's too close I can't see anything out of my north windows, nothing because it will be too tall."
Sandy has spent $6,000 in legal fees. That includes filing an injunction a judge took under advisement. But there's no injunction order to legally stop construction.
The neighbor, Ron Vlach, declined an interview. He says he has city approved permits for what he claims is a noncommercial building to store collectibles and a few boats with no big increase in traffic on his lane. Vlach owns Victory Marine.
Vlach says he plans to build a berm around the building to protect the neighbor's from drainage issues. However, unless a judge calls a halt to construction he'll keep building.
Fremont changed its zoning rules just a few months ago which allowed the building. Though neighbors claim they didn't know it the city administrator says there have been several public hearings on the change."
Mike the Pole Barn Guru comments:
Now I am not an attorney, but in my humble opinion any legal action taken by Christensen and Cadwaller against Vlach should be adjudged as a nuisance, thrown out of court and the judge should rule Vlach to be awarded attorney fees. The beef should be against the city of Fremont, not against the citizen who was merely following the rules.
Want to minimize or avoid these scenarios? If you are planning a new building which may at all incite a neighbor – discuss it with them in advance. Lay out your rationale clearly and concisely and listen to feedback from your neighbor which might allow for tense situations to be avoided.