How Lumber is Pressure Preservative Treated
Most people never have an opportunity to tour a pressure preservative treatment plant in operation. I have had this privilege several times and have always found it to be fascinating.
Rather than reinventing things, our friend Bob Vila (https://www.bobvila.com/) and Georgia-Pacific (https://www.buildgp.com/wood/lumber/) have produced this wonderful video for your enjoyment:
https://www.youtube.com/watch?v=KOD2ffGE7yw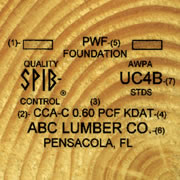 Note when watching, 20 bore samples are taken from each retort charge. Of these 16 or more must show adequate levels of treatment chemicals in order for any given treating cycle to be considered properly treated. This does leave some small chance for under treatment.
Here is some reading in regards to how long pressure preservative treated wood should last in ground: https://www.hansenpolebuildings.com/2017/12/will-poles-rot-off/.

Take time to enjoy the videos!