Considering a Retrofit to a Mezzanine in a Converted Racquetball Court
Reader JOHN writes:
"…… is a 501(c)(3) non-profit organization rooted in Bayfield, WI (population 500). We provide and support affordable access to facilities, programs, classes, and events that promote health, activity, and fun.
We have a racquetball court that has been converted to a fitness room and is now running out of space.  We are looking to add a mezzanine to the fitness room that can support several treadmills and light stretching equipment while keeping the heavy equipment (free weights, weight machines, etc.) on the main floor.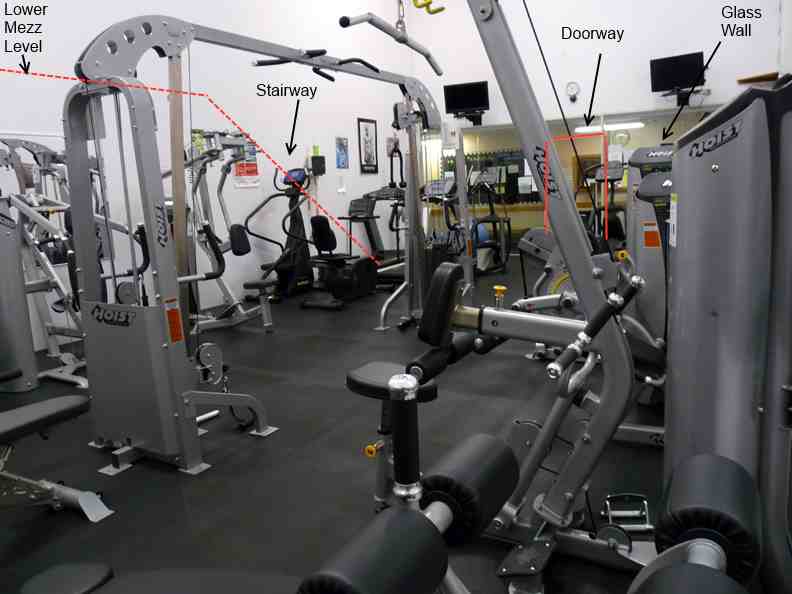 We are looking for a possible kit that can be easily carried down narrow hallways, through a standard size doorway and assembled around existing fitness equipment.  If you have any information on a product that can meet these requirements, we would be very interested.  Our installation goal is the end of Sept. of 2018.
Enclosed is a basic floor plan of fitness room along with pictures of the present layout.  The room is 40'x20'x20′."
Mike the Pole Barn Guru Responds:
Thank you very much for your inquiry. Hansen Pole Buildings is a huge supporter of 501(c)(3) non-profit organizations, as such we offer an added discount to all 501(c)(3) please read more here: https://www.hansenpolebuildings.com/2013/08/charitable-organizations/.
I was myself a former racquetball player, having sacrificed an Achilles' tendon in a match back in the 1980's (dating myself again). My dad also had built a court for himself in a condo development he and his brothers built at Liberty Lake, WA. Racquetball has gone out of vogue over the past few decades and many courts have been converted, such as yours, to other uses.
The post frame style of construction would be quite fitting for your retro application – until the narrow hallways come into play. In order to provide a clearspan floor, it would be necessary to be able to manhandle pieces up to 20 feet in length down those hallways. If you feel it might be possible to get a 20 foot long board into the former court area, I would recommend you go invest in a single 2×12 20 feet in length and try to carry it in, without bending it. If this is successful, we should discuss further.