How to Obtain a Post Frame Home Mortgage
Post frame (pole barn) buildings are becoming more and more popular as homes. Savvy home owners have realized benefits of post frame construction – they can build it themselves, post frame buildings are readily adaptable to a plethora of possible building sites, huge foundation cost savings, energy efficiency, and a veritable endless list of other reasons.

One stumbling block some have encountered – obtaining long term low interest mortgages on their completed pole barn homes.
Reader LOGAN recently wrote:
"Good morning sir, my wife and I have purchased 20 acres and are currently making payments on it. I built a pole barn home on the property. I spent my own money and built it. I am trying to put the house and land into a home mortgage. Do you have any advice or lenders I could talk to. My land is at 9% interest so I'm really trying to get this rolled into a home mortgage ASAP. Hate paying that much on interest. Thank you for your time."
Mike the Pole Barn Guru responds:
I happen to live in a post frame (pole building) home myself, so I know of what I speak.
Although I have a friend who works for Wick Buildings who will dispute this, to follow will be how to get best home mortgage rates for your post frame (pole) building home. You can apply with any mortgage lender offering a competitive rate. I've used Quicken Loans® (www.QuickenLoans.com) myself (no endorsement intended).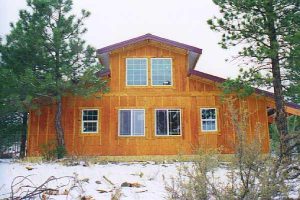 Utterly important will be to remember this mantra – your home has a permanent pressure preservative treated wood and concrete foundation and is a wood framed building with steel (unless your building has something different) siding. You are presenting only absolute truths (unless you neglected to have concrete below or around your building's columns) – I would never encourage anyone to fib, however success comes from proper presentation.
Make sure your appraiser uses identical terminology. Sadly, under no circumstance use any of these terms to describe your home – pole barn, pole building or post frame building. Any of these will merely muddle things and result in a less than satisfactory outcome.