Avoiding Fire in Pole Barn Shops
From www.hometownstations.com story by Joseph Sharpe:
"The cold weather almost cost one local man a big bundle of cash, in the form of muscle cars. He was trying to thaw some water lines, when things got ugly fast! Jeff Cook shows us what happened Tuesday in American Township, and how you can stay safe in the cold weather.
"I've been playing with cars for 30 years," said Steve Hawkey, Barn Owner.
Steve Hawkey's auto hobby almost hit a road block Tuesday morning when his pole barn caught fire.
"I had a frozen pipe and I was taking a small torch to it, trying to heat it up and the metal behind it got heated up and the insulation caught fire," explained Hawkey. Fortunately, the fire department was just down the street. Firefighters arrived fast and got to work with heavy smoke coming from the barn.
"When we started investigating we had fire in the wall and it started running up into the attic space," said Chief Tom Hadding, American Township Fire Dept.
So they opened up the wall, which wasn't easy, because they had to saw through plywood and metal. Fire Chief Tom Hadding says anytime you need to warm up your pipes, you need to watch out.
"He was using an open-flame torch. We don't recommend that. Use a hair dryer or call a professional plumber," said Hadding. Hawkey and others managed to get his muscle cars out of the barn.
"I shouldn't have been doing it, I was trying to get it thawed out.  I've done it for years and never had an issue but, lesson learned," said Hawkey.
Firefighters doing double duty this time of year, not only putting out fires, but staying safe and warm.
"We try to rotate our guys in and out so we make sure they don't get frostbite," said Hadding. They also spread salt at the scene, to prevent any falls.
As for Steve, he leaves us with this solid piece of advice.. "Don't use a torch on a frozen pipe," warned Hawkey."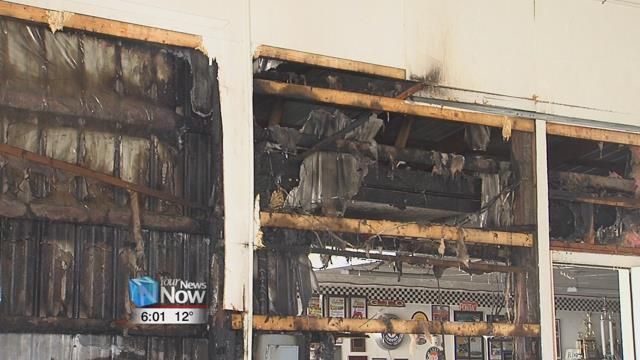 From Mike the Pole Barn Guru:
Some even better advice on avoiding fires in post frame garages and post frame shops:
Use a non-flammable interior finish which will not conduct heat. OSB or plywood both burn. Steel liner panels conduct heat (as well as electricity). A torch in proximity of a steel liner can cause Kraft paper facings on insulation to ignite, or foam board or spray foam to combust. A stray wire in contact with liner panels can create all sorts of havoc.
My recommendation – use 5/8" Type X gypsum wallboard for an interior wall finish.