Trying to Buy Properly Pressure Preservative Treated Lumber
Reader ZACH in BLACK CREEK has been challenged trying to buy properly pressure preservative treated lumber. He writes:
"Hello, I would like to get your opinion on 2×6 grade board. I read the article you wrote about lumber pressure treatment. I have been looking around for .20pcf or higher treated grade board. Called my local lumberyards but can't get a solid answer besides it meets ground contact spec. Im about ready to give up and buy Menards since they have in stock AC2 .15pcf. I will be pouring an apron in front of building so I wanted a higher treated board. I live near Green Bay, WI but have a trucker in family. What recommendation can you give me? I attached the Menards info also."
Mike the Pole Barn Guru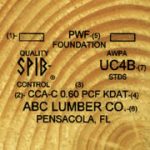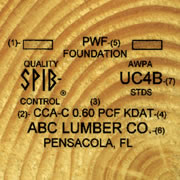 I know Hansen Pole Buildings' lumber wizardress Justine hears this story from unknowing and/or uneducated lumberyards all over America. At least I hope it is they do not know, rather than they do not care – which would be even worse.

Only pressure preservative treated lumber which is treated to a minimum UC-4B rating is suitable to be buried in the ground. AC2 is Micronized Copper Azole (MCA) and in order to be rated for burial in the ground, it would require a treatment level of 0.31 pcf (pounds per cubic foot) minimum. I really don't just make this stuff up, here is the proof from the AWPA (American Wood Protection Association): https://www.awpa.com/references/homeowner.asp.

MCA treated to .15 pcf is rated only for contact with the ground, it is not designed for burial in the ground. There is a distinct possibility this product will not give you the lifespan you desire.

My recommendation – stop in at the ProDesk at your local The Home Depot® there in Green Bay (I have been to both of them – good folks at each location) and they can special order what you are looking for. Make sure to specify you want MCA to a minimum of 0.31 and get it in writing on the paperwork when you order. You will have to wait awhile to get it, so be patient.

Also – if this is to be a grade board/splash plank on a post frame building, you truly should be using at least a 2×8, as a 2×6 only gives you 7/8″ of lumber to attach the bottom of your wall steel to given the drip edge of your base trim at four inches above grade.