Not All Pole Barns Are Designed to Code Mandated Wind Loads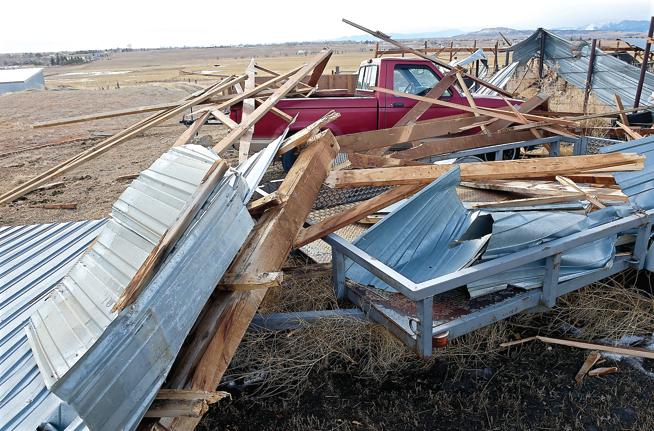 Photo by Lewis Geyer, Longmont Times-Call
Debris are all which remains of a pole barn formerly belonging to Tom Bennett of Berthoud, Colorado. According to Berthoud Fire Chief, Rob Stumpf, their office received a call about 9:15 on Monday morning, January 9, 2017 to notify them of a building collapse.
Winds were predicted to approach 90 mph (miles per hour) and they literally ripped the 30 foot wide by 120 foot long building apart. The pole building was used for animal housing, including llamas, however amazingly none of the animals were trapped or injured in the collapse.
Llamas abound in Colorado, where they are often used as pack animals for novice backpackers or serious outfitters. Llamas can be enjoyed by everyone, as they are good pets and companion animals, are easily cared for, and don't require a lot of space. Llamas are great around kids and are wonderful 4H projects. Llamas are good family fun, and llama shows offer opportunities for all ages to get involved.
Berthoud proper happens to straddle two Colorado counties – Weld and Larimer. Both counties provide handouts of prescriptive requirements for certain dimension post frame (pole) buildings. I have come down pretty hard on Larimer county's version in a past article: https://www.hansenpolebuildings.com/2015/04/prescriptive-requirements-2/, which a case in point might be the debris field shown in the photo.
Some things about the destroyed building which give me cause for concern would be the aspect ratio of the building. Its footprint has a length to width ratio of 4:1, which leads me to believe the roof steel, even if installed to the specifics of sound diaphragm design, would probably have been unable to withstand 90 mph wind shear forces. I don't see any signs of OSB (Oriented Strand Board) or plywood in the photo and there should have been portions of the roof and building endwalls with significant quantities to have withstood nature's forces.
In the end, a properly engineer designed post frame building, constructed in accordance with the plans, would very likely still be standing – without any damage. This again makes my point for all buildings be designed by a Registered Design Professional (engineer or architect) and structural plan reviews and inspections being required.
For this building, people and llamas were lucky, not one was injured. I hate to think it is going to take fatalities for jurisdictions to wake up.