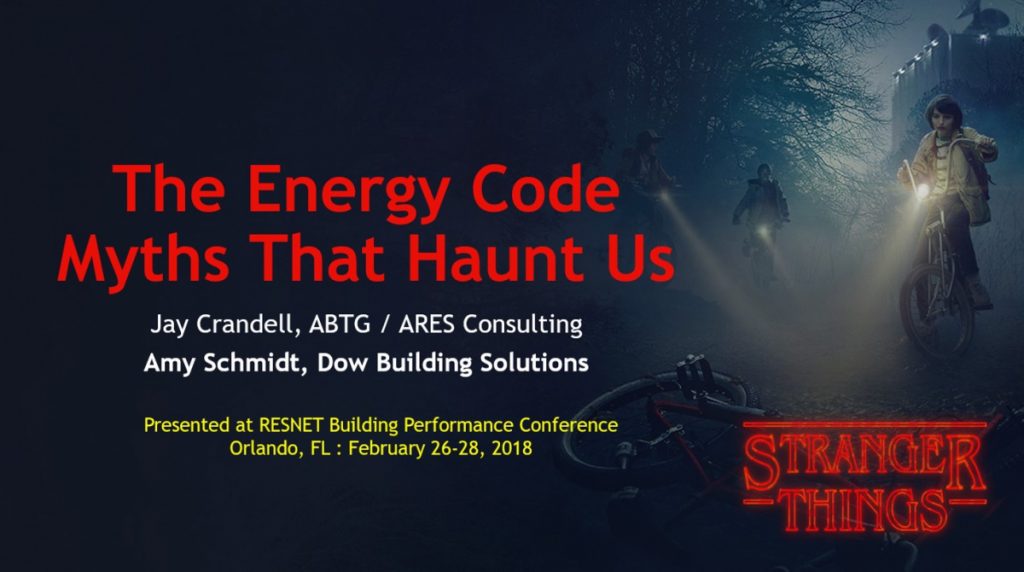 The loyal readers of my articles are seeing there is a definitive push towards energy efficiency in post frame construction. Indeed it appears to be the current popular buzz word. Most of the post frame industry did not come from the land of residential construction, therefore the application of the Energy Code can be daunting both to us and to our clients (not to mention builders).
Some of you may recognize the name Jay Crandell, P.E. from my mentioning his long ago stint as a summer intern for me and his inclusion in a previous article: https://www.hansenpolebuildings.com/2016/11/frost-protected-shallow-foundations/. Jay is going to get some more free press from me today as I am going to tout him as a co-presenter at the recent 2018 RESNET Building Performance Conference.
Disclaimer: The below was originally published by Applied Building Technology Group on March 12, 2018. The article was produced and published by the source, who is solely responsible for its content. I am publishing this story to raise awareness of information publicly available online and do not verify the accuracy of the author's claims. As a consequence, I cannot vouch for the validity of any facts, claims or opinions made in the article.
At the recent 2018 RESNET Building Performance Conference, Jay Crandell (ARES Consulting) and Amy Schmidt (Dow Building and Construction) gave a presentation titled "Stranger Things – The Energy Code Myths that Haunt Us". 
In the talk, they tackled confusing concepts in energy code compliance, such as calculating the R-value of a hybrid wall and determining air space performance contributions. For instance, in the realm of wall insulation, did you know 20+5 doesn't necessarily equal 25?  Or, did you know that the energy code actually is first and foremost a life safety code?
The presentation also covered misconceptions about the R-value of air barriers and how different building materials should be factored in determining compliance with R-value requirements.
Response to the presentation was very positive, with one attendee claiming "this is the best presentation I've seen to date at any RESNET conference." If you missed it, don't worry!  The slides do a great job of getting the points across, and are available here on continuousinsulation.org.