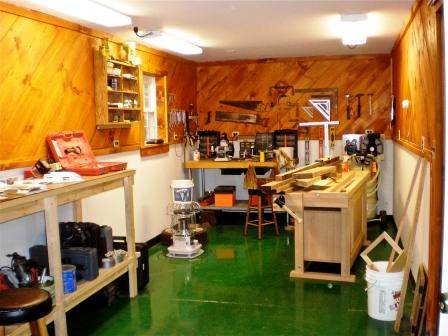 Maybe you have a hobby that's outgrown its current space. Or maybe your family has been telling you they're tired of hearing power tools running in the garage. Maybe you just need a place to work that's free of distractions. Whatever the case, it's time to build a custom workshop.
A detached workshop can be a great place to pursue a number of hobbies. You might use a workshop building for:
Woodworking: If the sounds of sawing and hammering in the garage is driving your family up the wall, a custom workshop can give you a place to work without disrupting the rest of the household.
Welding: A cramped garage may not be the best place to use a blow torch, but a detached workshop is ideal for a welding hobbyist.
Car Repair: You can easily customize a workshop to be large enough for several vehicles, a car lift, a work bench, and your tools.
Home Brewing: If you're tired of keeping your home brewing supplies in the bathroom or a guest bedroom, a workshop can provide much-needed additional storage space.
A Writer's Retreat: With the right insulation, you can create a comfortable, quiet sanctuary to work on your novel or freelance writing projects.
An Art Studio: No matter what medium you prefer, a detached workshop provides enough space to work on your art.
A Man Cave: Maybe you just want a space where you can relax and hang out with friends. A detached workshop is great for that too!
Workshop Buildings Don't Have to Break the Bank
Two major hang-ups that some people have when they consider building a workshop are cost and labor. After all, isn't any major construction project going to require a considerable investment of time and money?
Fortunately, that doesn't have to be the case with custom workshops. By choosing a prefabricated steel workshop, you can considerably reduce material costs without sacrificing quality. Prefab workshops are also relatively fast and easy to install, so you can turn your workshop construction and a DIY project and cut down on labor costs.
When you work with Hansen Pole Buildings, you can submit a design for your dream workshop, and we'll create a pole building kit with detailed instructions for installation. That way, you'll be able to get a detached workshop that meets all your needs without getting wrapped up in an overly expensive home construction project.
If you're ready to get your own custom workshop built, call us at 1-866-200-9657 for a quote.