Thoughts regarding nailing in screws.
It was late 1990. I had inherited my grandparents' lake cabin in Northeast Washington and decided to remodel it into a year-around residence. As part of this process, installing a new steel roof was of utmost importance. Of course, by the time we got around to reroofing, it was starting to snow. This may not have been such an issue, other than we were faced with working on a 7/12 roof slope.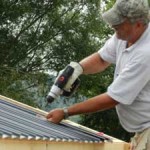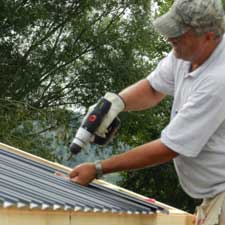 Some of my lowly paid, marginally skilled help did assist in moving this project along quickly – they opted to drive roof screws in with hammers, rather than using screw guns. Initially this might have been brilliant, however over time (a short time I might add) these nailed in screws decided to work themselves out of underlying framing. 
Why might this have happened? When screws are driven in, their threads destroy surrounding wood fibers, leaving little or nothing for threads to grip to prevent withdrawal. 
Being a leading construction industry blog, we have a significant readership. This leads to be contacted by manufacturers hoping to promote their products.
Recently I was approached by www.nailscrews.com with this proposal for their Duck Butt® (DB) gas nailer. This nailer is to be used to nail screws through steel roofing and siding! Here was their approach:
"We stopped the DB launch for two reasons: 
1: When we tested the new cordless Hitachi battery framing nailer, we knew it would revolutionize the gas/cordless tool market.
2: The 5th generation R&D DB gas nailer was developed in China. Thank God we waited.
We have been waiting & working with the Hitachi/Metobo HTP, but we need someone in the industry who knows what they are talking about to advise their new marketing people to get them to understand:
The market needs the DB style fasteners with cordless tools that can be installed faster to increase the productivity and save the labor costs.

Please review and if you agree, would you have the time to get involved with us and them as an adviser?"
MIke the Pole Barn Guru says:
Well, I have to admit, it would be fast.
Here is some information from manufacturer's website (in italics):

"Polyurethane Sealant hidden under the head is impervious to heat and cold cycles and UV rays."
Their optimal driving range, however, has this polyurethane sealant slightly exposed below the screw head. Inorganic materials are less responsive to UV rays than organic chemicals. Over a long-term, polyurethane, an organic material, will revert back to its natural state in response to UV exposure. This affects both lifespan and versatility of polyurethane.
"In Diaphragm testing conducted at the UFBI Engineering Lab, DB Fasteners shot through 29 ga. metal never failed due to the metal tearing, but the wood failed under the max load."
Mike the Pole Barn Guru adds:
Having participated in diaphragm testing myself, fastener "failure" was not the weakest link, nor was metal tearing – failures were due to buckling of steel panels between supports. If their testing had wood failures, my guess is there was a poorly designed wood system beneath the steel.
Nowhere did I find test results for this nailed in screw against withdrawal. After review I felt there was only one adequate response:
"In my humble opinion – steel should never be fastened by nailing via any method. Maybe
you can find someone who believes otherwise and will promote your product, this is not the place."
Somehow they did not like my response:
"We are a Screw that installs with a nailer.  
Per our Government! 
Patented!
Code approved into wood 
For use in steel and woods"
Mike says: Can and should