Can Wall Girts Be Installed Before The Trusses?
In my travels over the years I have seen more than a few post frame buildings under construction. When I find one being constructed by a building contractor, if the wall girts are installed before the roof, it is an immediate giveaway to the builder having been a framer at one time.
Why?
Because the correct (and easiest) way to assemble a post frame building is to construct the roof first, then place the wall girts.
But does this sound counter intuitive??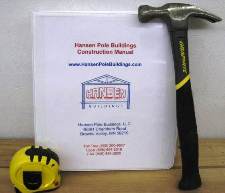 Client ED from CLINTON wrote to Hansen Pole Buildings' Mistress of All Things Being Delivered, Justine, recently:
"I do have another question.  I am very limited on Whidbey Island concerning  options for setting the trusses and I do not believe I will be ready for the trusses when they arrive on site, so paying the truss company to set them at the time of delivery is not an option. .  It appears that Hansen's recommends that the trusses get placed after the skirt boards are installed and before the wall girts are installed.  Do you see any issue with installing the wall girts prior to installation of the trusses?
Mike the Pole Barn Guru Writes:
Well, there could be some issues.
The majority of our clients (as well as most professional post frame building installers) frame up portions of their roof on the ground and then lift entire bays using either post top winch boxes, or a crane. Having girts in place would make this an impossibility as the girts would be in the way of raising the trusses.
In the event you decide installing the girts first is the direction you really want to go, it is crucial to have the tops of the columns held in place along the length of the building at exactly the column spacing. It is far easier to have to custom cut a few girts to various lengths and be able to keep all of the purlins in each bay the same length.
There are always methods to our madness, which is why the Hansen Pole Buildings' Construction Manual leads clients (or their builders) through the process of assembly in the correct order to make the process as easy and pain free as possible.