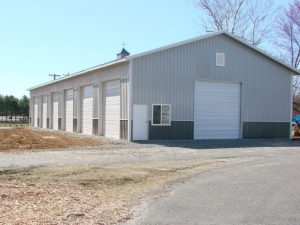 Of course the lofty ceilings and long, tall skeletons of pole barns are wonderful for breathable living spaces and roomy storefronts. But the endless customizability of pole barns also lends storage utility for goods produced and delivered in bulk. If you want to turn your pole barn into a world-class storage facility, just follow these 4 tips:
Know What You're Storing
No matter what industry for which you're storing, you'll need a fairly detailed concept of what you want to put inside your bulk storage pole building. Try to create a working idea of what you'll be putting in your barn by considering the following:
The dimensions of the items you're storing
The volume of items you're likely to be storing
The weight of individual items
If your items are stackable
If your items need containers for storing
The items you store will determine the layout of your bulk storage building and its final dimensions, so make sure you have a fairly clear picture of what will be inside before you build the outside.
Choose a Design Conducive to Storage
After you know more about what you'll be storing, consider how it will be stored inside your pole barn storage shed or barn.
Bulk agricultural products like food and grain may require specialized equipment to be installed, and you'll need to make sure your pole building has the capacity to handle that equipment. Bulk storage of commercial products may require you to build up rather than out, and you'll need to leave room for heavy moving equipment to navigate to and lift to carry your goods.
Avoid low ceilings and make sure that ventilation is plentiful. Dust, dirt, and bugs will accumulate in spaces that are too small, too moist, and not well ventilated. Poor conditions may compromise the safety of the goods you are trying to store and deteriorate your pole building.
Prepare for Shelving
Especially if you plan to store commercial goods, take advantage of the space between the walls and your goods with shelving. Choose materials for your pole barn storage design that are strong but easy to manipulate so you can improve storage options that take up minimal space.
Make sure your shelving is properly supported to avoid damage to your stored items as well as the building. Choosing a dense but pliable material for your walls is key to creating lasting shelving.
Maximize Temperature Control
In the modern manufacturing and agricultural worlds, most products need to be stored in conditions with strict temperature control. Enhance your pole building's natural climate control abilities by ensuring that your pole barn is insulated and has a vaulted roof if necessary.
Insulate: A variety of insulation options can be used in post frame buildings. Common methods are batt insulation, rigid foam and spray foam insulation. Rigid foam insulation is much more effective than fiberglass insulation at holding temperatures level in an indoor environment.
6-inch fiberglass insulation can be used with interior framed walls on pole buildings. The thick fiberglass beats 1-2 inches of rigid foam in insulative effectiveness, but is a snap with the thick wall cavities that pole buildings offer.
Use a Vaulted Ceiling: Vaulted ceilings can actually make temperature control more difficult if they are not used properly. Prepare your vaulted ceiling for all seasons – winter through summer – with the help of plentiful ventilation. Install ceiling fans across the length of the vaulted ceiling.
Use the extra space to help push warm air up and away in high-heat conditions. Include vents and ducts in the spare space to direct air that is too hot or cold away from your goods before they can be damaged. In the winter, use your fans to push hot air back down into the room where the goods are being stored.
With a little bit of foresight and research, you can work with your pole building construction company to create a long-lasting, affordable solution to create a pole barn for bulk storage of goods that will minimize risk and maximize profit – and look good while doing it.