Vapor Barriers Trap Moisture?
Do vapor barriers trap moisture in walls of post frame buildings? They can, but only if they are installed on both sides of a wall insulation cavity.
Regular readers of this column will recognize a prevailing trend towards climate controlling both new and existing post frame buildings. An ability to control interior climate extends far beyond merely what one happens to be doing for insulation. It also includes what one does for weather resistant barriers and vapor barriers.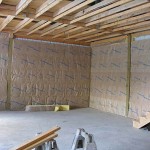 The purpose of a vapor barrier is to stop warm, moist, indoor air from infiltrating fiber-type insulation (think fiberglass or cellulose) during cold weather and condensing. Visible moisture or frost on the inside of a vapor barrier is either caused by a leaky vapor barrier or moisture migrating into the wall cavity from the outside. Leaky siding can cause this, and it often happens in basements that are apparently leak free. Vapor barriers are essential for any kind of insulation that air can pass through. Never do the really foolish act of slashing a vapor barrier that you find has moisture behind it or forgetting to install a vapor barrier in the first place. Today's best vapor barriers prevent moisture from moving into wall cavities while also letting trapped moisture escape.
Recommendations below are for cold-climate construction. As a rule of thumb, if you have to heat your building more than cool it, this probably applies to your circumstance.
A weather resistant barrier (https://www.hansenpolebuildings.com/2016/01/determining-the-most-effective-building-weather-resistant-barrier-part-1/) will prevent moisture from entering a wall from outside of building. It also allows any moisture within a wall to exit. Pretty slick stuff, as it is smart enough to be directional.
Inside of this wall, once unfaced (recommended) insulation batts are installed, should be a vapor barrier (https://www.hansenpolebuildings.com/2017/11/vapor-barriers-post-frame-construction/). It is imperative this vapor barrier not have unsealed tears or holes. It should be sealed to floor and ceiling and any joints, rips or tears should be adequately taped. Where problems most often occur, with vapor barriers, is when penetrations are made for things such as electrical boxes. Properly sealing of these penetrations with closed cell spray foam from a can does more to prevent warm moist air to pass through into your post frame wall insulation cavity, than anything else.