My Wife Does Not Like the Look of Steel Siding
DEAR POLE BARN GURU: I hope I'm not taking up too much of your time with this question. BTW, I'm copying Doug (Hansen Pole Buildings Designer) as we've briefly discussed this question.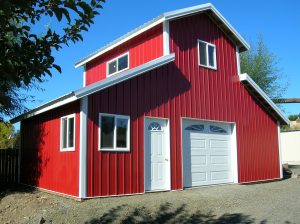 My wife does not like the look of steel siding.  However, I'm pretty sure it's the vertical siding that is her real issue.. i.e I agree with you that the type of material is probably not the problem. I think steel siding with a lapped siding look (Alside Satinwood for example) would be acceptable to her but I'm just not clear if such a thing is available for post frame buildings? One of your blog posts discusses horizontal steel siding but I'm not sure if it's applicable to a post frame structure unless the panels are in multiple 2′ widths in order for the edges to line up with the girts? So, I basically have 2 questions:
1) Does Hansen have a steel, simulated lapped siding option for your kits?
2) If not but a steel siding manufacturer provided horizontal lapped siding look panels in 2′ or 4′ widths, would that siding be structurally sufficient for the wind shear loads or would the structure still require the plywood / OSB sheathing? and if the OSB is required, are we back to needing vertical stringers to attach the siding or could the siding be attached directly to the OSB?
Again, sorry to be a pain but since our property should be ready within the next 2 months, the siding issue is the only real question I have before ordering my kit.
Thanks LONNIE in COLORADO SPRINGS
DEAR LONNIE: Our goal is to deliver the Ultimate Post Frame Building Experience – as such we prefer clients who ask lots of questions, as they end up getting buildings they are extremely happy with.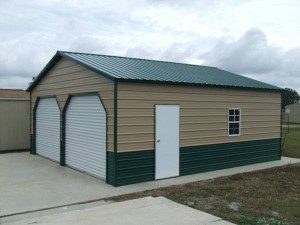 In the article you reference (https://www.hansenpolebuildings.com/2015/10/horizontal-steel-siding/), the siding being used is typical post frame building steel siding, just run horizontally. This entails having to add vertical blocking between the wall girts to attach the steel. There are some benefits to this as opposed to other horizontal sidings. It is structural, so does not have to be applied over OSB or plywood. It is going to be strong – with an 80,000 psi minimum yield point, it is pretty tough stuff – less likely to dent. With the large quantity of ribs (high ribs every nine inches with two low profile ribs between each high rib) it tends to not show waves and ripples nearly as much as other products. And – it can be ordered in relatively long lengths, which minimizes the number of splices.
We can provide a steel, lapped siding (such as Alside Satinwood®  https://www.alside.com/products/siding/steel-siding/solid-color-horizontal-siding/satinwood-select/) however keep in mind, some of the same expansion/contraction issues as with other lap sidings are likely to occur – you are probably going to see some waves. These panels are not structural, so will need to be applied over either 7/16″ OSB or 15/32″ plywood. And, although most manufacturers say you can attach the siding directly to the substrate, I personally would not do it. I'd want to have verticals no more than every two feet to attach the siding. I have read recently where installers have screwed the siding to OSB, but have no personal experience with how it performs over time.