Restore or Rebuild?

While it was not a post frame building, back in 1990 I began restoration (and adding onto) my family's then over 80 year-old hillside lake cabin. If it was not for our sentimental attachment and some amazing existing stonework, it would have been far less expensive to have nuked it all and started from scratch (as more than one of our neighbors did with their cabins).

Reader CADE in GARLAND writes:

"I have an old gable barn 40×48 that my wife and I would love to "restore". There are foundation issues on eave sides as well as bottom plates have started to rot. There are 14′ wide bays on each side and center section is 20′ wide. 6×6 posts spaced every 8′ oc and 2×6 purlins every 16″ oc. Wondering if I could keep the center section as is or add cross support as needed and turn the barn into a monitor style by basically removing the two sides and adding either mono trusses connected to the existing 6×6's or double 2×10's attached to each side of each 6×6 that would be 16′ wide or larger to get me away from the old footing and be able to place new posts in ground or on new footing? Maybe it's best to jack barn up and re frame eave walls and repair foundation. We would love to hear any advice or ideas you might have. Thanks! I appreciate your website and all the information you put out by the way! Attached is a similar size barn that would be pretty close to what we are thinking of doing. Thanks again."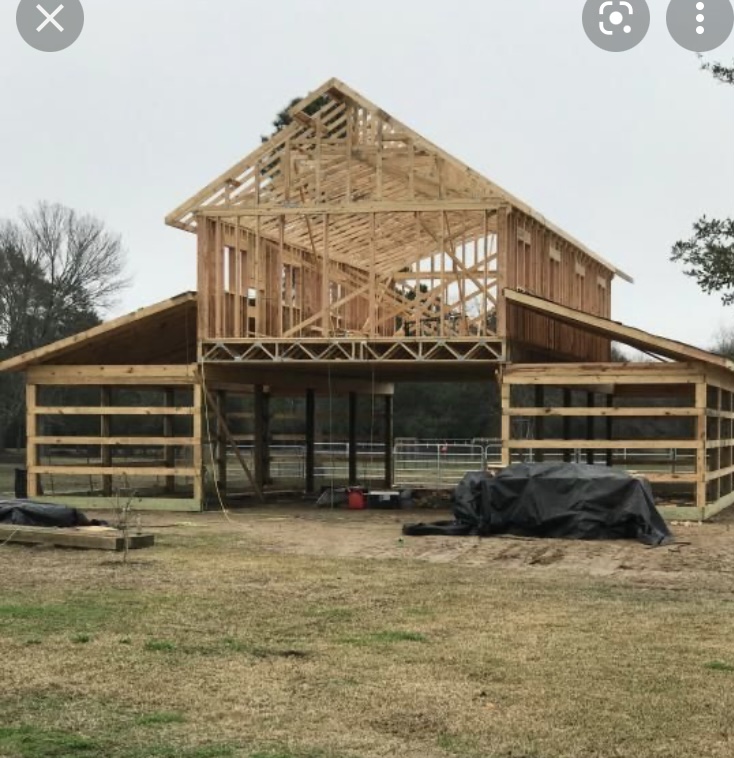 Mike the Pole Barn Guru writes:
Thank you for your very kind words, they are greatly appreciated.

Now I have not seen actual photos of your old gable barn, however when I start to hear "foundation issues" it obviously raises concerns. You could do all sorts of things with what you have, however if you economically and practically should, might be an entirely different story. Before digging in further, my best advice would be to make an investment into having a qualified professional engineer do an actual physical assessment to determine what is or is not structurally salvageable and to give you a better feel as to if you should restore or restart.

Unless old barns have historical significance, it is often best to give them a well-deserved burial and start over with a fully engineered post frame replacement.