This week the Pole Barn Guru answers reader questions about the availability of a tool for installation of vinyl backed insulation, pouring concrete prior to use of brackets and the limitations of "dry set" brackets, as well as setting vapor barrier once rebar hairpins have been installed.
DEAR POLE BARN GURU: Is there a tool out there that I can clip on the end of my vinyl back installation to pull it tight other than my hands. If so what would that tool be called and where can I buy it. I was hoping that there would be some type of alligator vice grips or something like that that we can attach and pull. MARK in OKLAHOMA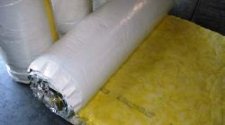 DEAR MARK: You are now finding one of many "joys" of using vinyl backed metal building insulation. You will want to read my personal metal building insulation story: https://www.hansenpolebuildings.com/2011/11/metal-building-insulation-in-pole-buildings-part-i/ and https://www.hansenpolebuildings.com/2011/11/metal-building-insulation/
In answer to your question – there is not such a commercially available product.
DEAR POLE BARN GURU: I plan to build a workshop with a concrete floor. a 24×40 x10ft building. Seems like it would be easier to just poor the concrete slab first and then just drill into the concrete and bolt the post brackets in place,,, rather than dig a bunch of holes and pour concrete piers for the post with wet set brackets…what are the advantages of setting all the posts first, then pouring a concrete floor later? Are there any disadvantages to bolting brackets to the concrete rather than using a wet set bracket? Ii am in a high wind area, (120 mph) and seismic area 'e". RON in HILO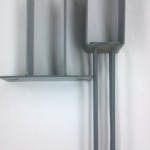 DEAR RON: Problem #1 is dry set (bolted) brackets are not rated for moment (bending) forces, unlike wet set brackets. This becomes problematic, especially in areas of high wind.
Problem #2 – you can't just pour a flat slab on grade, you would have to thicken slab edges to probably 18″
With wet set brackets, you can monolithic pour a slab with deeper excavation points at bracket locations, however I typically recommend waiting to pour slabs until after a roof is on to avoid heavy objects from falling and chipping your freshly poured concrete.
DEAR POLE BARN GURU: How do I install the concrete vapor barrier after the rebar hairpins in the columns have been placed?
Thanks! REID in WILLISTON
DEAR REID: Vapor barrier will go under rebar hairpins, so either block up one hairpin end or have someone lift it for you (this will cause other end of hairpin to raise) – slide vapor barrier under hairpin and up around sides of column. Seal vapor barrier to column and you are all good.