Saving a Poorly Designed a Crawl Space

Reader GEORGE in VIENNA writes:

"I am substantially replacing rotted parts of an existing building set on short 6×6 treated posts which are in good condition. above the posts it is conventional platform construction, and untreated. Unfortunately, the original builder set the building partially into the side of a hill in an attempt to use thermal mass and reduce energy use in its off-grid location. The uphill side was backfilled to a height of approximately 30″ above the interior floor, which is OSB over untreated 2×12 beams and untreated 2×6 joists. Skirting to keep out moisture was untreated plywood, poly sheet, and Styrofoam block insulation. In 6 years, there is substantial rot of the perimeter plywood, perimeter 2×12 rim joists, some 2×6 floor joists, some areas of the OSB flooring, the untreated sole plate and a few studs above. Otherwise the building walls, windows, doors, roof trusses, metal roof, insulation, etc., are well made and in good condition. We are temporarily supporting the building from below and removing the failed materials all the way around. We are removing the backfilled dirt on three sides to expose the posts and provide airflow underneath. All rim joists, beams, and floor joists will be replaced with treated materials. I am looking for advice in two areas (1) floor insulation, either under or over the OSB, and (2) treated skirting around the perimeter which would allow partial backfill and maintain ventilation." 

Mike the Pole Barn Guru says:
You really have two options: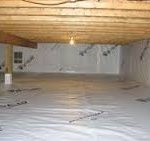 You could condition your crawl space – this would require a 6mil or thicker, well-sealed vapor barrier to cover underlying soil and up perimeter walls to floor joists. There would be no vents with this method, however an air-circulating device must be provided. Perimeter walls should be insulated using either closed cell spray foam or rock wool batts. 
From Building Code Section 308.3, Unventilated Crawl Spaces
The air-circulating device must move at least 1 cubic foot of air per 50 square feet of crawl space area. The crawl space floor area must be completely sealed with a vapor-retarding material. The edges of the vapor retarder must be lapped up against the inner foundation walls.





Read more about encapsulated crawl spaces here:

https://www.hansenpolebuildings.com/2020/11/11-reasons-why-barndominium-crawl-space-encapsulation-is-important/




Or – have an unconditioned crawl space, where your vapor barrier would cover the ground surface. Insulation would ideally be beneath OSB – between floor joists. Again, same choices for insulation – just between joists. With this choice foundation vents would need to be added to perimeter walls.





Most building codes require 1 square foot of open ventilation area for every 150 square feet of crawlspace. Generally, Automatic Foundation Vents have 50 inches of net free area per vent. Therefore, install one vent for every 50 square feet of crawlspace.





FDN (Foundation) rated pressure preservative treated plywood will probably be your best skirting material.