Benefits of Adding Solar To Your Barndominium
Solar energy is taking off in a big way, both here and worldwide. There are around 2.7 million residential solar panels installed in the United States, and solar trends continue to grow as people become more interested in energy alternatives. If you're considering building a post frame barndominium or shouse (shop/house), you may want to use solar energy as a power source. Whether your plan is for personal use, as a rental, or to sell, outfitting this space with solar panels can be a great option for a variety of reasons.
Affordable and Cost Effective
An exciting thing about barndominiums is they can be less expensive than a traditional home. You may be considering planning a new pole barn as a home. This can be advantageous for a few reasons. In this scenario, you will have more freedom over design and size of your barndominium, and it will require less material overall than a traditional home. In terms of cost, location also matters, and there are some states where it is less expensive to build a barndominium than others. This is because there are some states where buying property and materials are simply less expensive than in others. 
However, a major mistake potential self-builders make is cutting costs too heavily when it comes to construction materials. Though you may be excited about reducing your overall project expenses, it is important to remember this is a major time commitment and financial investment. Cutting corners will only eventually cost you money as you'll have to repair or replace broken or failed elements over time. Another mistake people make when constructing their barndominium is not choosing the right plans for their residential pole building. Not having a plan in place before starting your project will cost you money and frustration, as it will eventually create unforeseen future expenses. Not to mention, if you plan on adding solar panels or other external elements to your home, you'll want to make sure your design will accommodate those features.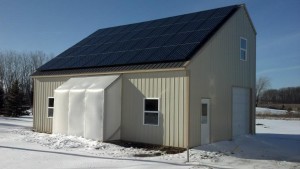 When considering energy costs, there is a false preconception solar panels are extremely expensive and cost-ineffective. However, the cost of solar panels has decreased dramatically in recent years. In 2022, average cost per watt for industry standard solar panels is $2.77 per watt, and this is before tax credits and rebates available for installing solar panels. An average home will need a six-kilowatt solar energy system to generate 9-10 kilowatts of power. However, after assessing your post frame home plan, you may find you have less overall energy needs, and could reduce needed solar panel amounts. If you're interested in solar energy, but worried about costs, it is good to know modern technology has made them more affordable than ever. 
Increases Property Value
For those planning on living in their barndominium, solar panels increase your property value and it's great to know you are increasing your ROI (return on investment). However, if you're going to be reselling, pre-installed solar panels can be a very attractive option for potential buyers. Not only will they be purchasing a home able to produce its own energy, they will also be able to reap increased property value benefits provided by solar panels. 
If you live further north, you might be surprised to know many cloudy states have regulations allowing for tax breaks for installing solar panels. This can bring overall cost down and make solar panels a great resource, even in places where there may be limited sun exposure at certain times. Additionally, solar energy systems can operate under cloud cover, though efficiency will be reduced. Solar energy systems use a battery to store energy, so even if there is weather preventing direct sunlight, you won't immediately lose power. Don't miss out on opportunities to increase your barndominium's value just because you live somewhere with less sun.
Enhancing Energy Efficiency & Sustainability
A big concern anyone should have when building a new home is energy efficiency. If you plan on installing solar panels, adding elements to your home to maximize solar energy system efficiency can help to reduce how many panels you need overall. When considering heating and cooling needs, a great thing about barndominiums is it's much easier to install insulation. This is because their less complicated structures require fewer materials, lowering overall installation costs. Something you might want to consider in addition to insulation is cool metal roofing. Cool metal roofing reflects sunlight off your building, and can allow you to save anywhere from 7-15% in overall energy costs. This is a great feature to combine with solar panels, whether you install them on a rooftop or beside your home. A sun-resistant roof will help you maximize your solar panels and use energy most efficiently. 
Another sustainability aspect to consider is what materials you're using to construct your barn home. Steel cladding is an incredible choice for green home construction. Not only is steel reflective and sun resistant, it is incredibly durable. Some other things to consider when you want to increase your barndominium's solar energy system include: 
Installing UV-blocking windows and curtains

Limiting unnecessary energy and water usage

Upgrading to smart thermostats to conserve energy
Adding energy efficient elements to your barn home is a great way to maximize  your solar energy system efficiency. 
One Last Note
If you are interested in post frame home kits, building a barndominium, or installing solar panels, it is essential you avoid common mistakes people make when building a post frame home. A major issue potentially costing you is not checking in with local building codes and regulations. If you build before checking these local codes, you can waste time and money if you're required to change, update, or remove your building. It is also important to check in with your HOA (Homeowner's Association) if you live in an HOA-regulated area. HOA's are unforgiving when it comes to property infractions, so it's important to be aware if you are not in compliance, you may face fines later on seriously affecting your project cost. 
With this in mind, choosing a barndominium kit, adding sustainable features you can feel good about, and building a brand-new home where there once was none are all incredible rewards of taking on a project like this. If you make a plan, choose materials wisely, and make sure you're in compliance with local laws, you can have your own dream solar-powered barn home.