Polesaver™ Sleeves

Premature decay of pressure preservative treated wood columns is a frequent source of discussion in social media. In all reality, properly pressure preservative treated wood is likely to outlast anyone alive on this planet. For extended reading, please see https://www.hansenpolebuildings.com/2020/09/pressure-treated-post-frame-building-poles-rot/
Author's note: I have not personally used this particular product and this article is not to be considered an endorsement, by me, of suitability for your particular end use.
For those who are not yet convinced, Polesaver™ sleeves may provide additional peace of mind. Polesaver™ sleeves are non-toxic, composite barrier sleeves. They feature a dual-layer construction with an outer thermoplastic sleeve and an inner, meltable bituminous liner.

Outer thermoplastic sleeve consists of material with a proven track record in severe ground-contact barrier applications for over 50 years. Inner thermoplastic meltable bituminous sealant is a complex blend of bitumen (asphalt) and over 20 other additives engineered to provide a durable and long-lasting seal to column surface. Its meltable characteristics mean when the sleeve is heated, it melts and penetrates the column surface, bonding the outer thermoplastic layer to wood. This creates an air and water tight seal required to prevent decay. There is a high performance adhesive strip along one edge to allow the sleeve to be wrapped around the column and adhered to itself before heat application.

Upon heating, the liner melts and the outer sleeve shrinks down tightly onto the wood column to create a tough, air and watertight seal to column surface. This seal permanently excludes all factors necessary for wood decay to occur, making conventional ground line decay impossible.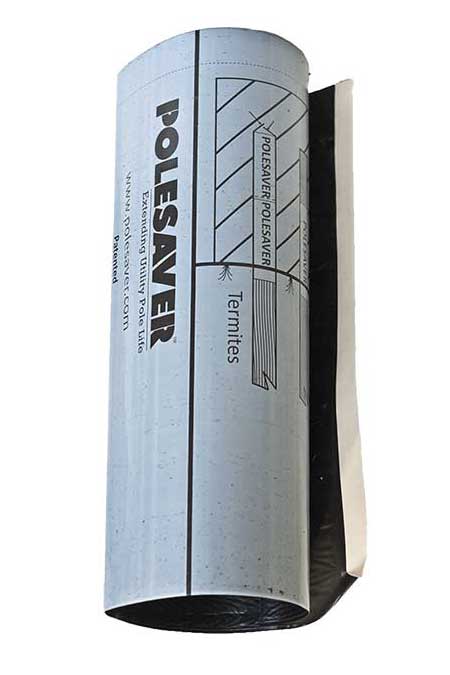 According to their manufacturer, Polesaver™ sleeves are quickly and easily applied to exclude all causes of ground-line decay. Polesaver™ sleeves make conventional ground-line decay impossible, thus ensuring pole strength is maintained over the column's lifespan. Polesaver™  sleeves significantly reduce inspection, repair and replacement costs, giving lowest cost post option and an expected pole life of 50+ years (considering properly pressure treated wood will last well beyond 50 years to start with).