My 22 Year-Old Morton Building Roof Leaks

Reader TERRY in EVANSVILLE writes:

"Dear Pole Barn Guru, we have a 1989 Morton building. The roof was replaced in 2000 due to flaking and peeling paint. Since then, the headers over our large north and south doors have deteriorated, and the barn is leaking on the entire stretch of north and south walls further deteriorating the wood at the top and consequently the bottom as it runs down. I believe this has been happening since the roof was replaced …taking this long for us to notice the damage. I was told that there is a condensation problem. But, water runs from the ridge to the eave. We can see stains on the trusses. There are two places where water has dripped in the middle of the barn. I went up on the roof and inspected the ridge. Appears as though the ribbed metal has been over tightened about every 2 to 3 ft. in a 140 ft. span. In light rains we do not see water running down the walls, in heavy blowing storms, the water runs enough that I have videotaped it. Any words of wisdom or insight to what you think is going on would be greatly appreciated. I've been dealing with Morton since March of 2020 with not much success. Also, just a side note… one of their people stopped by in 2016 to look things over…at that time he said he could not adjust the doors. But…gave a $10000 estimate to rebuild, instead of looking into why there was a problem. I think if we had done the repair we would be facing a similar problem today, as the problem seems to have grown worse. Thank you in advance!"


Mike the Pole Barn Guru says:
You could have a plethora of different issues going on.

Start by process of elimination –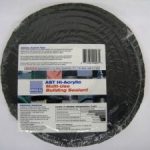 Is there a form fitted closure strip under each side of your ridge cap? If you have light coming through the ridge during daylight, then no. Easiest fix, if none, would be Emseal https://www.hansenpolebuildings.com/2016/03/emseal-self-expanding-sealant-tape-closures/


2) Check for leaks. Get a garden hose up on your roof – start by running water at eave lines and have someone inside yell when a leak is found. You only have to do this test on a small portion along your eave line. Pick a spot where interior water stains are greatest. Gradually work your way towards the ridge line. Leaks can usually be fixed by replacing the original screw by one of longer length and larger diameter.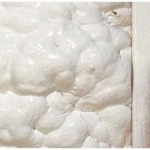 3) Once the above two have been either ruled out or repaired, your problem is condensation. Stains on trusses and purlins are typically a giveaway to this being an issue, especially if they seem relatively consistent from eave to ridge and along length of building. Short of replacing roof steel with a product with an Integral Condensation Control factory applied (read more here: https://www.hansenpolebuildings.com/2020/09/integral-condensation-control-2/), your solution is not inexpensive – have two inches of closed cell spray foam applied directly to underside of your roof steel.